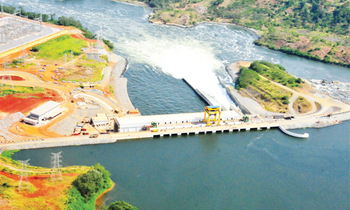 UEGCL rising to the challenge of stakeholders, ISO certification


The Uganda Electricity Generation Company Ltd (UEGCL) is to streamline its processes and activities, following the acquisition of the ISO 2005 certificate. The certificate spells out key principles that must be followed by the company.
The principles include establishment, acquisition, operation and maintenance of electricity generation facilities to the satisfaction of stakeholders. The revelation was made by the chief executive officer of UEGCL, Eng. Harrison E. Mutikanga.
Once processes are streamlined, it will be easier for UEGCL to implement and monitor projects, such as the operations of Kiira/Nalubaale Complex, enhancing procurement processes, human resource management and information technology platforms, among others.
Why UEGCL considered ISO certification
UEGCL board chairperson Eng. Proscovia M. Njuki said three years ago, they set a number of goals and targets aimed at increasing shareholder value and meeting customer and citizen aspirations.
The goals were channelled into the company's strategic plan, which took into account the need to manage the generation capacity of ongoing works on Karuma (600MW) and Isimba (183MW) to bolster economic growth.
Other works include Muzizi (44MW) and Nyagak (5.5MW) hydropower projects, Njuki explained. To manage them effectively, there was need for the company to work in line with internationally accepted standards. CLICK HERE FOR MORE ON THIS STORY
ADVERT
ELECTRICITY REGULATORY AUTHORITY
Five power projects to be commissioned

From Tororo to Soroti, Gulu, Hoima, Kasese and Kabale, there are different electricitygeneration projects undergoing construction, which will be due for commissioning in less than six months.
The projects include Tororo Solar North (10MW), Siti 1 (6.2MW), Siti 2 (16.5MW), (Soroti Solar plant (10MW), Achwa 2 HPP (42MW) and Waki HPP. The projects were recently inspected by a team from the Electricity Regulatory Authority

About 33MW in offing
About five small electricity generation plants with a total installed generation capacity of about 33.6MW are expected to be connected to the national grid before the end of February next year.
They include Tororo Solar North plant (10MW), Siti 1 (6.2MW), Rwimi HPP (5.5MW), Lubilia (5.4MW) and Muvumbe power plants. Their commissioning will bring Uganda's total installed generation capacity close to 960MW.
Currently, Uganda's installed generation capacity stands at 924.9MW. Of this, large hydro account for 69%, while thermal, cogeneration and small hydro account for 15%, 9% and 7% of the installed capacity, respectively.
Progress registered Tororo Solar North
The project construction kicked off in December last year and has been completed. The project is undergoing performance tests by the Uganda Electricity Transmission Company Limited (UETCL) and Umeme, the distributor. Eng.
Ziria Tibalwa Waako expressed optimism in the reduction of technical losses that are incurred during transmission due to short distances. Technical losses are normally incurred during the transmission of power, from the generation plant to the transmission substation.
The longer the distance, the higher the technical losses, and vice-versa. The plant is located less than two kilometres away from the UETCL Tororo substation. "It is implemented near the UETCL load centres and this contributes to reduction in technical losses that may be incurred during transmission over long distances," Waako said last week. CLICK HERE FOR MORE ON THIS STORY
ADVERTS
Uganda eyes solar energy

In Uganda's bid to diversify her electricity generation mix from hydro segment, the country is exploring alternative sources of renewable energy, like solar and thermal energy.
Only recently, Uganda launched Sooty Solar Plant, the largest of its kind in East Africa.
Barely a year after the achievement, a new solar plant in Tororo district that had been under construction since December last year, has been completed and is awaiting commissioning by the contractor.
According to the Ministry of Energy and Mineral Development, Uganda's total installed generation capacity stood at 924.9MW at the end of 2016. Of this, 759.4MW was licensed across all energy sources.
Large hydros account for 69% of installed capacity, while thermal, cogeneration and small hydro account for 15%, 9% and 7%, respectively.
The project was contracted to Tororo Solar North Limited, which appointed Building Energy, a South African firm, as the Engineering, Procurement, and Construction (EPC) contractor.
"It is undergoing technical performance tests by UETCL and Umeme and it is expected to be switched to the national grid early next month," Jaco Brits, the project site manager, said.
He explained that the 10MW project consists of about 32,240 solar panels. Brits was addressing the management of Electricity Regulatory Authority (ERA), the sub-sector regulator at the project in Tororo.
Since Monday, ERA has been on a tour of different electricity-generation projects across the country.
The tour, slated to last five days, is intended to check on the progress made by the projects and to ascertain that the licensees are adhering to the terms and conditions of their licences.
Commissioning the Tororo plant will bring the total solar generation capacity to 20MW. Eng. Ziria Tibalwa Waako, ERA's chief executive officer, described the project as one of government's initiatives to implement the renewable energy policy, under which it seeks to diversify electricity generation. CLICK HERE FOR MORE ON THIS STORY
ADVERT