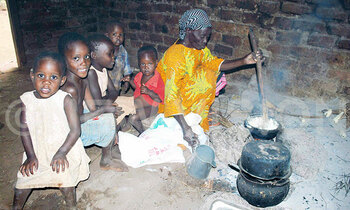 POLLUTION

Inside a smoke-filled hut, Jane Rose Kataihe, in her late 50s, struggles to blow into the fireplace to fan the flames. Amidst bouts of coughing, she chokes on the smoke and her eyes turn teary.

In the adjacent room that is partitioned off to create a bedroom, Kataihe's two granddaughters sit, rubbing their eyes. "Kaaka! (meaning grandmother) Our eyes hurt, the smoke is too much!" one of them, a four-year-old, complains.

On a Saturday afternoon, Ronnet Luswata, a resident of Kinawataka village in Mbuya, a Kampala suburb, struggles to remove the soot covering the ceiling of her two-roomed house.

"One would think I cook in this house, yet, all this soot comes from the paraffin lamp I use for lighting," she says.

A hundred meters away from her house, Luswata's children gather around a burning heap of rubbish, with thick smoke billowing from it.

It is from such air pollution conditions that this year's World Environmental Health Day theme "Indoor and outdoor air quality" was drawn.

According to Emmery Mbaha, the president of the Environmental Health Workers' Association of Uganda (EHWAU), air pollution is an issue neglected by people. Globally, air pollution is a challenge, although people in developed nations are affected more by outdoor pollution as opposed to Uganda, which is grappling with indoor air pollution.

Mbaha says about 80% of Uganda's population uses paraffin lamps and candles for lighting. Most rural homes use firewood for cooking, producing a lot of smoke and ash, which is harmful to health. Equally, burning of paraffin produces soot, which is a pollutant.

He says the soot produced after burning wood and paraffin is as sticky as tar, and has the potential to cause cancer.

He says when soot goes in one's eye, it irritates and causes itching. As one rubs the eye, the lens gets damaged, leading to sight problems.

Mbaha adds that some building materials, like paint and varnish, contain LED, a chemical that is dangerous. Sprays, insecticides and perfumes contain heavy metals that are also poisonous to the body.

The common cause of outdoor pollution is exhaust fumes, Mbaha says, adding that some fuel on the market contains LED, which burns and becomes gaseous. Some studies show that crops grown by the roadside contain LED.

Racheal Apolot, a fellow of Makerere School of Public Health, says often, the community engages in bush burning, which leads to air pollution.

She says burning of waste such as plastics and polythene at less than 10,000°C produces dangerous chemicals such as dioxins, which are associated with cancer, birth defects and death, if inhaled in high concentration.

She is keen to point out that most industries in Uganda do not meet emission standards. As a result, they release potentially cancer-causing pollutants into the air. In addition, some organizations, including health facilities, burn waste using substandard burning chambers.

Against this background, Mbaha and Apolot think air pollution has been neglected in Uganda, justifying this year's World Environmental Health Day theme. But they are optimistic that talking about pollution will draw policymakers into action.

Background of the celebration

The International Federation of Environmental Health (IFEH) designated the day in 2009 and asked nations, including Uganda, to come up with different programmes for the annual event. Countries have since commemorated the day, but at national level, Uganda has never celebrated it.

"Uganda was not prepared to take off. However, students belonging to Makerere University Environmental Health Students' Association (MUEHSA) started off by engaging in community activities such as cleaning," says Mbaha.

This year, with improved technology, the students formed a WhatsApp group, which has made communication easy.

Challenges affecting environmental health

Mbaha says funding is one big issue affecting environmental health services in the country.

"Uganda does not have a budget line for environmental health, and the little money allocated through the National Environment Management Authority (NEMA), called the Sanitation Condition Grant, is not sufficient to address the broad sanitation component of environmental health.

Mbaha says each district is allocated sh20m annually to run environmental health services but that, too, is not enough.

The government has also not procured means of transport for environmental health workers yet by the nature of their work, health assistants, who are the lowest cadres, are assigned to supervise either a parish or a sub-county and sometimes, reach each household.

A health inspector is supposed to supervise a sub- county or a health sub-district to build capacity of health assistants and support them in environmental health service delivery. But MBaha wonders how they can deliver effectively if they have to move on foot.

He says because environmental health workers oversee entire districts and municipal councils in the delivery of services, it is important that they are given motorcycles or vehicles.

The practice of non-governmental organisations recruiting non-professionals in the capacities of environmental health workers also affects the quality and delivery of services.

"They prefer to recruit social scientists, environmental scientists and people who specialised in development studies, and leave out professionals," explains Mbaha.

He thinks the practice stems from the background of managers of NGOs, as majority are social scientists and engineers, who prefer to employ people they have been working with previously.

In addition, he says the employment structure of the Government is limiting and has given districts powers to customise the recruitment structure. Consequently, they tend to leave out environmental health workers and opt for other posts. For instance, the district may choose to recruit 10 medical doctors, 10 clinical officers, 10 nurses and leave out environmental health workers on grounds that they do not have a small wage bill.

There are limited professional development outlets (promotions) for environmental health workers.

"A health inspector is supposed to be promoted to a senior inspector level and then to the level of principal, but the structure at the district does not allow," says Mbaha.

Way forward

Mbaha says the Government should walk the talk because the president has always said the priority of the Government is preventive health services.

"There is need to allocate money into preventive health services if Uganda is to progress. Our policy documents need to be adjusted to give priority to preventive health services," Mbaha suggests.

Photo caption

Theresa Katuku cooking inside her kitchen in the company of orphaned children she takes care of Masindi district. Uganda is grappling with indoor air pollution



Pupils of Highfield Primary School in Gayaza, Kampala burning rubbish during a community sensitisation exercise on sanitation in the area in June 2014