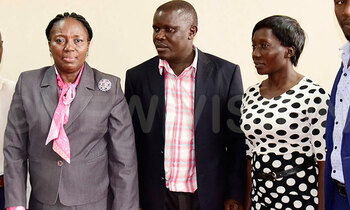 The Speaker of Parliament Rebecca Kadaga (left) posing for a group picture with Najib Magala (centre) and Florence Magembe, after a meeting with members of Special Hire Operators and Drivers Association of Uganda, at Parliament on September27, 2017. Photo by Kennedy Oryema

Special hire drivers have met the Speaker of Parliament Rebecca Kadaga to petition Parliament over the high fees they are charged.

The group led by their chairman, Abdullah Bwete told Kadaga they are wallowing in poverty because their business is over taxed yet they get meager earnings.

"The number of Ugandans that uses our services is still very small. It is therefore unfair to us to make us pay all those charges," Bwete explained.

Fred Galiwango, one of the members of the group, said they each pay annual street parking fees of sh2.2m, annual road user fee of sh648, 000, annual insurance fee of 74,000 and pay annual rental fee of sh340, 000 to the ministry of works and transport.

The group asked Kadaga to accept to link them to the president so that he can scrap the fees as he recently did for the taxi drivers.

Government on Monday announced that it had scrapped all non-statutory parking fees levied on taxis and buses and reduced parking fees in gazette areas by 44% for buses and 60% for taxis.

Galiwango said they are over 7000 special hire drivers in Kampala and that they are ready to organize themselves so that government can empower them economically.

"We are poor. We also want to be given a special operation wealth creation program for getting us out of poverty. The cars we drive are not ours. Government can even support us to get money we can borrow to buy our own cars for our business," Galiwango explained.

The special hire drivers told Kadaga to influence policy makers to make policies and programs which would empower them economically.

Kadaga promised she would discuss with the president to see how they would also be helped.

"Since groups have been helped through operation wealth creation, you can also be given a special program for fighting poverty," she stated.