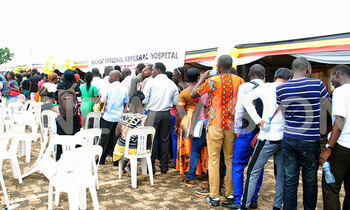 Peoples lining up to be immunized during the Tax payers Appreciation week at Kololo Independence grounds on September 27, 2017. Photo by Mary Kansiime


The Uganda Revenue Authority (URA) taxpayer's appreciation week commenced today, with more than 400 exhibitors showcasing their services. But it was the long queues of hundreds of people seeking Yellow Fever Vaccination at the Mulago Hospital tent that highlighted the event on this maiden day.

Person after person thronged the Kololo Independence Grounds, but more than 90% marched to where scores already lined to take the jab, which protects against deadly Yellow Fever.

Job Arinaitwe, from Makerere University, said he "hoped onto a taxi" to the Independence Grounds after he was told Mulago would offer the jab free of charge during the three day exhibition.

"Here I am. The queue is really long. But officials have said they have enough vaccines for all the people here (at the Independence Grounds)."

So, he said, he would wait. On another day, a Yellow Fever Jab costs about sh100, 000 in private clinics.

More exhibitors continued to display their work to the public till late in the evening, they will continue through Friday.

The taxman's officials said the exhibition is also intended to guide the public on how to access government services, and promote growth programs such as Buy Ugandan Build Uganda (BUBU).

"From September 27-29, we shall have both government exhibition stalls and a good number from the private sector at the Kololo independence grounds at no cost. This is meant to enlighten the public on how government and the private sector can co-exist and benefit from each other," said URA's publicist, Vincent Seruma, during a visit to the Vision Group offices on Friday.

He said during the three day event, all government ministries, departments and agencies will also provide probono services such as tax advisory and legal services, free health checks and treatment and immunization to the public.

He said the event is meant to show the link between tax collection and public accountability, as the country strives to increase of the impact of revenue spent on delivering public services.

"For the first time, we are bringing together all government ministries, agencies and departments in Kololo to explain how revenue collected in the previous financial year was spent. Enhancing public accountability can be a huge driver for tax compliance," he said.

Seruma said the taxman has invited non-government organisations (NGOs) and civil societies, small and medium enterprises, members of the public, implementing partners and compliant tax payers.

"There will also be public debates on topical issues to ensure that there is maximum public involvement and opportunity for feedback about government programs and accountability.

Last financial year, the Revenue Authority missed its annual collection target by almost sh457b, blamed on the sluggish growth of the economy and a large informal sector.

"During our tax education programs, people have been asking what the taxes they pay do. They think all the money we collect is stolen by corrupt government officials which is not true," said the commissioner for domestic taxes James Kisaale.

The recent National Census statistics indicate that about 10 million people are engaged in economically gainful activities that place them in the tax bracket, although only 2.5% of them contribute to the national treasury