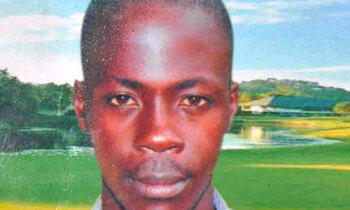 PIC: Thadeo Ssebunya Kasule

CRIME | MPIGI MURDER

Mpigi- A businessman in Mpigi town council was on Saturday night attacked by unknown assailants, who broke into his home and stabbed him.

Thadeo Ssebunya Kasule, 30, was rushed to Nsambya Hospital in Kampala, where he was pronounced dead.

Kasule was a resident of Mpambire zone in Mpigi town council and the proprietor of Kasule General Hardware, located at Kalagala zone, Mpigi district.

It is reported that Kasule refused to give the attackers money.

The attackers are said to have entered the house through one of the windows and waited for Kasule and his wife Sofia Nakijjoba to return. Armed with machetes and knives, they asked for sh120m, which he had collected as sales at his hardware store.
PIC: The late Kasule's hardware store at Kalagala zone. (Credit: Simon Ssekidee)


According to Nakijjoba, when her husband told the attackers that he did not have the money, they stabbed him in the head several times before he collapsed to the ground.

"When we entered the house, five men armed with machetes and knives attacked us. They immediately started cutting my husband, demanding that he hands over the money. When he told them he did not have it, they stabbed him in the head and he started bleeding," Nakijobba said.

She said the attackers also asked them to transfer sh1m, which the deceased had on his mobile money account to their number and they took off.

According to the acting regional police commander for Katonga region, Philip Mukasa, Police has launched investigations into the matter.

The couple has two children. Kasule also owned a number of commercial houses in Mpigi and Kampala.