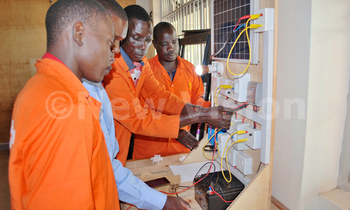 Participants checking cables to ensure proper connection. Photos by Agnes Kyotalengerire
In small groups of four to five, they gathered around switch-boards installing sockets and connecting wires to make sure current flows.

They were not tapping the usual hydro power, but solar energy. Another small group was out placing the panels.

"The panels should be mounted at a specific inclination. I have just acquired the information during the training," said Ramathan Saidi Wamula.

This was part of the activities to close the one-month training at Nakawa Vocational Training Institute on Friday.
The training, which was funded by the institute together with HWK TVET partnership project and supported by the chamber of skilled craftsmen in Cologne, German started on August 28, attracted 11 participants.

"Lately many people are switching to solar energy, especially in rural areas. But the challenge is that the technicians involved in the installation lack adequate skills," said Fred Godfrey Muwanga the Principal Nakawa Vocational Training Institute, while addressing participants.

Muwanga said it is upon that background that they opted to start up a training programme aimed at equipping technicians with knowledge and skills to competently handle any solar installation or repair of solar equipment.

Joshua Kunya, working with HWKT TVET partnership project said since people are beginning to embrace solar energy, they plan to extend the programme to a full-time nine months leading to an award of certificates.