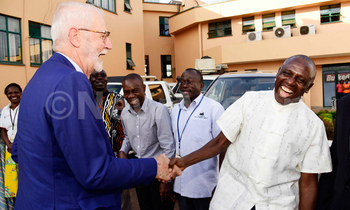 Pike greeting Vision Group staff
Excitement and joy filled the air at Vision Group head office in Kampala when William Pike returned to commission a new building named after him.
Pike, who is the first Vision Group managing director (MD), has been honoured by naming the newly acquired building along First Street, Industrial Area; Pike House.

Pike served as New Vision's MD for 20 years, starting in 1986 to 2006.
On Friday, he was received at New Vision by his successor, Robert Kabushenga, Editor-in-chief Barbara Kaija and Vision Group staff. He commissioned the double-storeyed building, which once housed the famous Club Silk.
The building was redesigned to fit office environment. It now houses audit, legal, marketing, sales, advertising, design and magazine departments. It also has two boardrooms and a rooftop for hosting company events.

"I am excited to be back here, this is home. I love New Vision and I am so happy to see that there is continuity and stability in the company," Pike said.

"The 20 years I spent with the New Vision were the best years here in Uganda. But the most memorable moment is the NRA encounter in July 1984, it was terrifying," he said.

Kabushenga praised Pike for laying a strong foundation for Vision Group, which is now a global brand, having started from scratch with Pike.

"The building represents Pike's legacy, a legacy of frugality and discipline. It represents everything you stood for in this management," Kabushenga said.

Following the acquisition of Pike House, Vision Group property now occupies 4.5 acres of land with access to three streets.


Cutting cake. The cake was shaped in form of the rectangular Pike House
According to Kabushenga, the land titles for the properties are secure and in the company's custody. Pike House was procured using the company money and there was no borrowing.

"We have no debts. We used our own money to buy and renovate this building. And for the first time in New Vision's 30 years history, the company is not renting premises, this has enabled us to save $216,000 in rent annually," Kabushenga said.

Vision Group board chairperson, David Ssebabi says when he came in; he found a strong foundation laid by Pike, which has helped the company progress.

"New Vision and Pike is a remarkable story. It is incredible and amazing that you the first MD laid a strong foundation for us who came later. If you had not given us that foundation, we would not have achieved what we have today," Ssebabi said.

Several guests including Netherlands Ambassador Uganda, Henk Jan Bakker, Vision Group board members attended the event.

Pike later cut cake shaped in form of the rectangular Pike House. Wine and eats were served to the guests as Pike imprinted himself more in the hearts of the New Vision team.

It seemed like he had never left.


Staff who worked with Pike speak out

John Eremu, features editor

I was recruited at the time when he was MD and James Tumusiime as deputy. He was always serious. You would remain friends as long as you were doing the right thing. He hated mediocrity.

He had an open policy for editorial staff. You did not have to seek an appointment to see him regarding an editorial issue.

I feel great meeting him again, he has not changed much and he has remained the same humorous, but serious person. I am glad Vision Group has immortalised him.

Godwin Rwankwenge

I met him the first day he arrived at New Vision on July 1, 1986. I was the deputy production manager by then. He loves work and people who are very active.

I am so happy to see him back here and the respect New Vision has accorded him is deserved.

Adyeeri Kanyaihe

I retired last year after 20 years with the New Vision. I worked with Pike for 16 years from 1990 to 2006. He is a result-oriented man. We operated in very difficult times, but he was always our hope. It is so good meeting him, again.