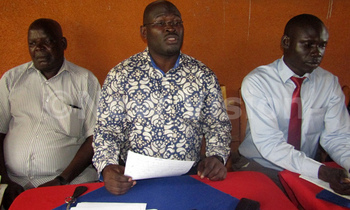 Apumeri (centre) with other councillors during the press conference
Residents of Tororo County have resolved to maintain their stand not to participate in the forthcoming LCI, LC2 and women council elections, until the Tororo conflict is resolved as promised by President Yoweri Museveni.

President Museveni in May directed the chairperson of the electoral commission not to hold by-elections for Tororo district chairperson, until when he resolves the conflict between the residents of Tororo County (Iteso) and West Budama (Japadhola).

The residents who were represented by their district councillors warned the electoral commission officials not to organise any election in the county, unless they have got communication from the President.

The caucus chairperson, Jimmy Alia Apumeri, told a press briefing that the political situation in the district is still fragile for any elections to be held unless, the district is split into two separate administrative units.

Apumeri said the recent decision by West Budama councillors not to hold a joint council meeting with those from Tororo clearly demonstrated that the two communities will no longer work together and so there is need for separation.

The councillors also during their meeting resolved to write to the Secretary General of the ruling National Resistance Movement (NRM) to consider organising elections for NRM structures for Tororo so that it elects its own district executive committee that will play a role in mobilising support for the party.

They said the current NRM party leadership in the district is tribalistic, which has led to increasing opposition from the party members who are not happy with the way they are being treated.