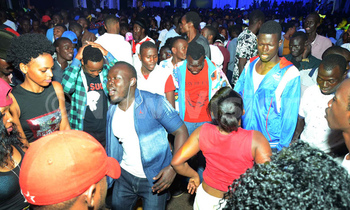 It is not easy to make young people party until they drop, but Club Beer under their new party theme, Club Dome, did just that yesterday at the International University of East Africa (IUEA).
The Dome is a festival kind of event, where a gigantic tent is raised and assorted to give it a carnival touch.
IUEA took it a notch higher; gates were supposed to be open by 3:00pm, but by 2:00pm, security was pleading with enthusiastic students to hold on because the party had not yet started.
Fenon Records who were in charge of production had the students itching to get in; they had a big tent set up, with a glittering walkway.
Inside was a photo area, where one could take a selfie to be posted immediately on the brewery's social media pages.
There was also a PlayStation area where students tried their skills on the different game choices.
Performances started at exactly 10:00pm, forcing the already hyped students into screams as they danced and watched their favorite artists perform.
Performers on the night included Dj Apeman, Irene Ntale, Ykee Benda, Latinum, Ceaserous, Eddy Wizzy, Micheal Ross, The Myth and Deejays Slick Stuart and Roja.