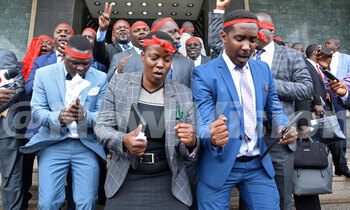 PIC: Opposition politicians dance after the motion on age limit was pushed forward to another date. (Credit: Miriam Namutebi)
POLITICS | AGE LIMIT

Opposition MPs today tied red clothes around their heads and sung the National Anthem as they protested efforts to introduce a bill to remove the Presidential age limit of 75 years in the Constitution.

Asked why they were wearing the red ribbons, Ibrahim Ssemujju (Kira Municipality) said it was a symbol they were prepared to die to block the tabling of the motion in Parliament.

"We are ready to fight the age limit Bill," Ssemujju, who IS also the FDC spokesperson told the New Vision.

Deputy speaker of Parliament Jacob Oulanyah prematurely adjourned the House after MPs said they had been intimidated by the security.

Some opposition MPs said their homes had been surrounded by security personnel on the eve of and the day of tabling the Bill.

Oulanyah said the Bill to introduce the removal the presidential age limit from the Constitution had not been put on the order as it was highly anticipated.

He said consultations were still being made and MPs would be informed about a decision on it next week.


Winfred Kiiza, the leader of the opposition in Parliament, said her children were blocked from going to school. Kiiza said MPs were refused to park their cars in Parliament and told to walk into Parliament.

Emmanuel Kigozi (Makindye-Ssabagabo Municipality) said they had succeeded in blocking Parliament sitting and debating the bill.

Nabilah Naggayi (district Woman, Kampala) said they will not allow the Constitution to be changed.

"We are fighting against the Constitution being changed," Naggayi said.

Sserunga Munyagwa (Kawempe South) said they were ready to be martyred in their efforts to block the lifting of the age limit.

"We are ready to die. The issue is not about the large numbers of the NRM MPs in Parliament who can pass the vote. We are determined to block the Bill," Munyagwa said.