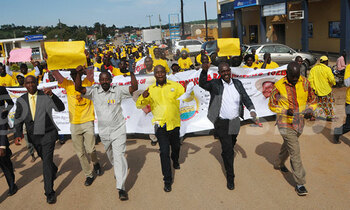 PIC: Kiruhura residents marching through Rushere town in support of lifting the age limit (Credit: Abdulkarim Ssengendo)

AGE LIMIT | KIRUHURA

Residents of Kiruhura district have blasted people who are against lifting age limit and cautioned them to stop trading toxic messages and abhorrence statements into Ugandans intending to divide people.

The residents said the tabled age limit is not designed to favor President Museveni to go for another term but it is a favour of stability of the country and that it will benefit all Ugandans intending contest for any political position.

The residents described article 102 B of the 1995 constitution as a primitive article which doesn't suit to exist in the constitution of a developing country like Uganda. They were convinced that the article once removed from the constitution, it will give advantage all Ugandans above 75 and below 35 years with the capacity, elected by the majority of Ugandans to serve this country.

Thousands of residents of Kiruhura district gathered at Rushere grounds on Wednesday where they explicitly pronounced themselves and moved a clear stand in support of the amendment of article 102 B of the constitution of Uganda 1995 to remove the minimum and maximum age limit of political leaders. They included religious leaders, politicians and business among others.

"Removing the barrier of age limit doesn't only say that we are allowing President Museveni to go for another term but to allow a person above 75 years and still has the capacity and is elected by the majority of the Ugandans can still serve this country or a person below 35 years can is legible to stand and serve the population of Uganda," Samuel Katugunda district chairman said.

Rev. Katugunda opposed demand by the religion leaders to hold a referendum saying their views wasn't a representation of all religious leaders in the country, and that the exercise would also be costly to the government for nothing. "I don't know the religious leaders they consulted, I am a religious leader and I wasn't consulted by these so called religious leaders," Katugunda added.

Rev.Canon Patrick Bwerere, said the article is very discriminatory and that it has for many years denied many Ugandans their rights to be voted. Rev.John Karakire urged all Ugandans to rally behind lifting the age limit; this was also supported by a section of leaders from the Pentecostal church in the district. Michael Kanyamuyenga, an elder in the district said this is not the first time the constitution of Uganda is changed.

"Col.Kiiza Besigye in the constituency assembly was supporting there should not be age limit, he is now the same opposing its removal, society is dynamic that's why people like Besigye are also changing their position. We can't accept to lose great players because of this article, if there were no mistakes in Old Testament, the New Testament was not going to exist," Kanyamuyenga said.

"Donald Trump, the president of the respected country America is now 82, by the time he is serves two terms he will be clocking 90, Angela Merkel the president of German is asking for a fifth term and clocking
80 but they are serving their countries very well," Dan Mukago the district speaker informed the gathering, urging them that even people who are above 75 years should be given a chance to serve.

Last week on 13th September, Kiruhura district council passed a resolution to amend the constitution on article 102B. A minute extract of the passed resolution was read to the gathering and handed over to Kazo Member of Parliament, Gordon Bafaki who was mandated to hand it over to the speaker of Parliament to show their commitment to support lifting the article.

Kiruhura district speaker, Dan Mukago, called for onward submissions to remove the age limit.
Gordon Bafaki Kazo MP commended Kiruhura residents for coming up to support the lifting of the age limit saying as MPs from Kiruhura they now have the mandate of their voters and were given a firm ground to make sure the motion is passed. "I'm happy to see residents of my district have anonymously passed a resolution to amend this article, we have not got a position and now we have got it and we are directed by our voters to go and support the motion," Bafaki said.