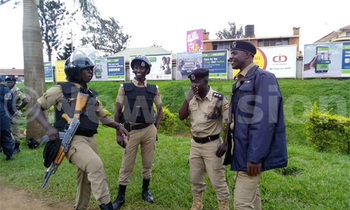 SOROTI
In Soroti, there is heavy armed police deployment at various roundabouts on Lira Dokolo Soroti road. Police say they have information that some people were organizing to protest against the age limit removal. There has been recovery of two tyres and some petrol in a plastic bottle.
Have a look at the pictures coming in from Soroti
LIRA
In Lira, Joel Tubanone the Lira DPC, met a section of youths who were protesting the age limit removal. The youths had started burning tryes. Tubanone managed to convince the youths not to continue with the protest
AT MAKERERE UNIVERSITY
Police blocks students at Makerere University students today grouped from different halls of residence in what they termed as demonstration against lifting of age limit.
The students say they wanted to match to Parliament and present their petition against lifting age limit.
Legislators who want a constitutional amendment to remove age limit will this afternoon present a private member's bill seeking to remove age limit (amendment of Article 102(b).
They said they do not see why they are always told they are tomorrow's leaders, yet the old people in leadership do not want to leave. However, the Police swung in action before the students could get out of the university.
They fired teargas and blocked the roads. Although the students have been dispersed and blocked from exiting the university, there is still heavy presence of the Police at the university.