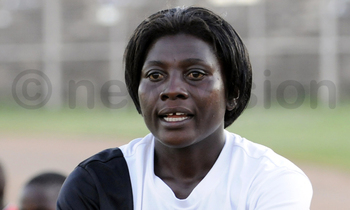 FUFA has appointed Faridah Bulega as the new coach for the senior national women's football team, the Crested Cranes.
Bulega steps into the shoes of Majidah Nantanda who has been charge of the team for a lengthy spell.
Bulega was previously the head coach for the national U20 women's team before being elevated to the senior team.
She will be deputised by Edward Kaziba while Daniel Kiwanuka will be the goalkeeping coach.
Kaziba is currently in charge of the U20 women's team where he is assisted by former Crested Cranes player Oliver Mbekeka.
Interim Cranes coach Moses Basena who had his stay in the position extended, will also take charge of the U23 team where he will be deputised by Wasswa Bbosa.
Former Express coach Matia Lule has been placed in charge of the U20 team replacing Kefa Kisala where he will be deputised by James Odoch.
Crested Cranes:
Head coach: Faridah Bulega
Assistant Coach: Edward Kaziba
Goalkeepers' Trainer: Daniel Kiwanuka
U20
Head coach: Edward Kaziba
Assistant Coach: Oliver Mbekeka
Goalkeepers' Trainer: Daniel Kiwanuka
Men's teams
U17 (Uganda Cubs)
Head coach: U-17: Peter Onen
Assistant coach: Hamza Lutalo
Goalkeeper Trainer: Mubarak Kiberu
U20 (Uganda Hippos)
Head coach: Mathias Lule
Assistant coach: James Odoch
Goalkeeping coach: Samuel Kawalya
U23 (Uganda Kobs)
Head coach: Moses Basena
Assistant coach: Wasswa Bbosa
Goalkeeping coach: Sadiq Wassa
Uganda Cranes
Head coach: Moses Basena
Assistant Coach: Mathias Lule
Goalkeeping coach: Fred Kajoba
*Ibrahim Ssekajja to join panel of coaches
Uganda National teams' coordinators (to be appointed on rotational basis - case by case)
Chris Muyinda
Joseph Kasana
Kamala Taban
Sulait Makumbi​