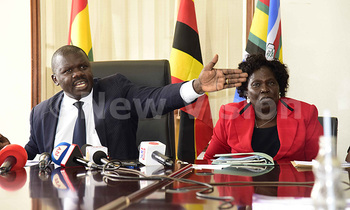 Deputy Leader of Opposition in Parliament Roland Kaginda (right) talks while Betty Aol looks on during a press conference about removal of the age limit at Parliament. PHOTO/Kennedy Eryema
As the National Resistance Movement (NRM) party legislators prepare to table a private member's Bill, the Opposition is not sitting back and just folding hands.
They have vowed to oppose the debate and deal head-on with those proposing to amend article 102(b) of the Constitution.
Addressing Journalists at Parliament, acting leader of opposition Roland Mugume vowed to make it impossible for the NRM people to execute their plans.
"The battle lines have been drawn. It is now or never. As Opposition, we promise that we are going to make life extremely impossible for people who want to extend President Museveni 's presidency beyond 75 years," Mugume said.
He said the Opposition plans to move around the country seeking people's views and mandate to deal with the matter.
A section of NRM MPs last week caused a storm in Parliament when they announced that they plan to table a private member's Bill that seeks to amend article 102(b) of the Constitution to remove the presidential age limit of 75 years.
The move is seen as part of a grand plan to allow incumbent Yoweri Kaguta Museveni to continue in office after the expiration of his current mandate in 2021.
The age-limit for a presidential candidate is currently pegged at 75. Museveni, who is now 73, will be two years older than the limit by 2021 when the next presidential election is due.
Mugume also vowed to deal with any Opposition member believed to be in support of the move.
MP Mubarak Munyagwa amused Journalists when he advised members "without muscles to back off the project."
"We shall sort this out one on one on the floor of Parliament. If we fail, we shall take it outside," he said as he banged the table, causing laughter in the room.
Sources say the architects of the plan want to first discuss the matter in the NRM Caucus, which is scheduled to meet tomorrow.