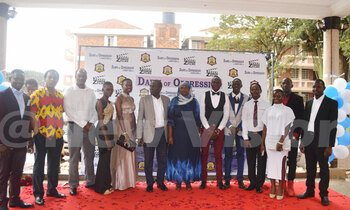 PIC: Actors and guests at the red carpet

FILM | DAWN OF OPPRESSION

In an effort to support and promote young talent, Zenken films in conjunction with Buddo Secondary School have produced a film to answer the cause.

In an event organised at Pope Paul IV Memorial Hall, the film Dawn of Oppression was premiered with parents of the students, students and people of hierarchy in attendance.

Elegantly dressed guests started arriving at 4:00pm.

At exactly 5:30pm the entrance was opened, led by the guest of honour and deputy speaker of Buganda Ahmed Lwasa and the headmaster of Buddo SS, Lawrence Muwonge.


Dawn of Oppression is a film written and produced by Joseph Ssebaggala aka Zenken. Most of the cast were students of Buddo SS. Uganda's renowned actors Felix Bwanika, Denis Kinani and Micheal Musoke, were also in the movie.

The film follows two students who cannot participate in the co-curricular activities of their choice because their parents do not approve.

The event featured guest performances from artists like the Giovan, Tim and Mario.

In his speech, Lwasa advised parents not to be selfish, but rather support their children in pursuing their dreams.