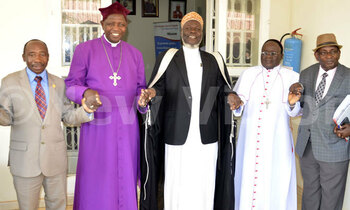 As the political temperatures soar over the raging debate on the pros and cons of purging Article 102(b) which bars individuals above 75 years from taking a shot at the presidency, religious leaders have this afternoon exhorted security agencies to sit on the fence.
A decision last week by a section of lawmakers affiliated to the ruling National Resistance Movement (NRM) to pass a resolution calling for amendment of the constitution to drop the impugned provision has spawned a polarizing debate on all media platforms.
Detectives at the Criminal Investigations and Intelligence Directorate have today summoned MPs opposed to the mooted amendments - Muhammad Nsereko, Monicah Amoding and Theodore Ssekikubo over the matter.
"Security agencies should stop harassing one side and favoring another," H.E. Sheikh Shaban Ramadhan Mubajje, on behalf of prelates under the auspices of the Inter-Religious Council of Uganda told the media earlier today.
The issue of partisanship by security agencies, especially police, has been cited by those opposed to lifting of the age limit on the presidency.
While police protects people in different parts of the country as they march in towns in support of amending the constitution, those opposed to the mooted amendment have been arrested.
On Sunday, the vice president of the opposition Democratic Party, Mukasa Mbidde was arrested by police on suspicion that he was planning to use the anniversary of king Oyo's coronation anniversary to campaign against dropping the provision.