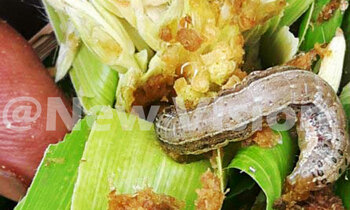 AGRICULTURE | FALL WORM

Ministers of agriculture from African Union (AU) member countries are to discuss the Fall Army Worm at the upcoming ministerial meeting set for October this year, at the AU headquarters in Ethiopia.

The ministers will discuss ways of addressing the pest that is affecting food production in the continent and posing a threat to the food security agenda.

The worm attacks the maize crop, which is the main crop for both cash and food in most of the affected countries.
PIC: Josefa (centre) speaking at the press conference in Abijan


This was revealed by the commissioner for rural economy at the AU, Josepha on the sidelines of the A Green Revolution in Agriculture Forum (AGRF) that took place at the Abidjan, Ivory Coast.

This follows report findings by CABI, indicating that 28 countries have been affected and more four are undergoing tests to establish if the pest is with them too.

CABI stands for "Center for Agriculture and Biosciences International", a not for profit international organisation that improves people's lives by providing information and applying scientific advice to solve agriculture-related challenges.

The most affected countries include Benin, Cameroon, DR Congo, Ethiopia Malawi, Mozambique, Nigeria, Uganda, Tanzania, and Zimbabwe.

CABI estimates that the potential impact of the worm in ten countries combined on maize yield will be between 7.2 and 17.9m tons per year with losses lying between$2,218m and $5,518m per year. The study was funded by UK's Department for International Development (DFID).


At the same event, the Joe DeVries, the Vice president, Program for Development and innovation at AGRA said enabling agricultural communities with quick and co-ordinated responses is essential in ensuring that the continent stays ahead of the challenge.

Roger Day from CABI warned that as countries turn to the use of pesticide to reduce the damage, farmers face the risk of pests developing resistance to treatment which has become a wide spread problem in America.

He called for more efforts in creating awareness and education to teach farmers how to use the available pesticides to control the worms.

"Research is urgently needed and awareness creation so that farmers can monitor their fields and make decisions on whether and how to control them," said Roger Day.