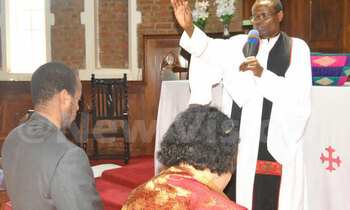 CULTURE | TORO KINGDOM

The king of Toro Oyo Nyimba Kabamba Iguru has this morning attended a church service at St John's Cathedral in Fort Portal, Hoima district.

The king was accompanied by Queen Mother Best Kemigisa and his aunt princess Elizabeth Bagaya, among other degnatiries. The service was led by Rev. Ezra Musobozi, the sub dean of St Johns Cathedral.

In his summon, Rev. Musobozi called on the people of Toro to work hard. He also commended the royal family for being godly.