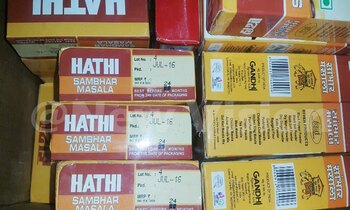 UNBS | FAKE SPICES

When shopping for food spices, be on the lookout because there are many counterfeits in the market, Uganda National Bureau of Standard (UNBS) has warned.

Speaking to New Vision, UNBS spokesperson Godwin Muhwezi said there are several tins of fake and poorly labeled Hathi Masala spices on the market, especially the 100gm chicken flavour. The fake spices are common in Ntinda, Kamwokya, Mawanda road, Nakawa and downtown Kampala.

"Our market surveillance department indicates that some imported products from India do not conform to relevant regulations with respect to health, safety and environmental requirements," Muhwezi said.

He called upon consumers to stay away from the following spices: Hathi Undhiya Masala, Hathi kitchen king masala, Hathi chde masala, Hathi Garam Masala and Hathi Sambher masala.

"The importer of those spices adjusted the expiry date from 12 years to 24 years, each piece of the spices costs sh7,000. The goods were confiscated and taken to UNBS offices," Muhwezi said.