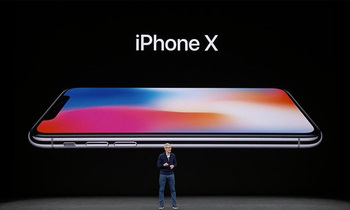 Apple has unveiled the £1,000 (sh4, 776,889) iPhone X, the latest generation of its flagship device. The all-glass device has an edge-to-edge display and no home button.

It unlocks using facial recognition software and features wireless charging.

Tim Cook also launched the iPhone 8 and iPhone 8 Plus, two new phones that have 4.7-inch and 5.5-inch screens. Like the iPhone X, the devices also have an all-glass design and can be charged wirelessly.

In addition to the phones, Apple announced a third generation of its Watch and a 4K Apple TV.

The iPhone X celebrates the 10th anniversary of Apple's smartphone, featuring a radical redesign and new technology.

The phone has a 5.8-inch OLED screen, which fills the entire front of the device. Apple has removed the iconic home button to make way for the display, replacing it with facial recognition software called Face ID.