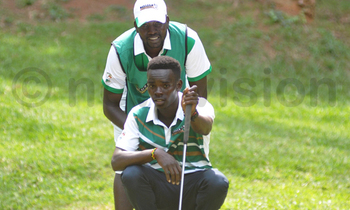 Otile plans a shot with his caddie. Photo by Michael Nsubuga
Defending champion Ronald Otile is determined to defend his Tusker Malt Lager Uganda Open title despite the huge interest for the championship from a number of competitors.
On top of the local competition, 29 foreigners are registered for the four-day competition that tees off at 7am with Otile playing alongside Kenya's Bernard Omondi and Aaron Mukiibi.
As he prepared to go for the official practice round yesterday Otile vowed not to give room to any of the 'suitors' saying he was ready to defend and win the event for the third time in a row.
"This trophy is not going anywhere; it is staying with me. I expect it to be more competitive than the last two Uganda Opens because most of the best East African players will show up but I'm not giving them chance," Otile who of late has been working on his short game remarked.
As the amateur tournament tees off today Otile who is chasing a hat-trick is up against a number of fellow youngsters as well as national team members, Ronald Rugumayo, Richard Baguma, Becca Mwanja, David Kamulindwa, Dennis Asaba, Adolf Muhumuza and US based Titus Okwong.
Baguma who in 2015 made Otile sweat for the championship before finally losing by two strokes is also itching to get his hands on the trophy for the first time.
He has of late put up impressive performances that saw him bounce back to the national team and was one of the best players against Kenya in the Victoria Cup in July.
"This is the year to win it. For the past one week I relocated to Fort Portal and have been practicing from there because I didn't want to familiarize myself too much with the Kitante course as it would make me complacent; I now want to play it like it is new to me, that how I will be able to score well," Baguma reasoned.
After his practice round youngster David Kamulindwa was complaining of the hard greens that don't hold. "I will only have to roll over the greens because they are hard," Kamulindwa one of the fast improving golfers said.
The tournament provides an opportunity to the likes of Adolf Muhumuza to win it for the first time before venturing into the paid ranks.
"This is the only chance I have to win this tournament; otherwise I will have to try winning it as a professional," Muhumuza stated
A number of foreign players including 14 Kenyans, 7 Rwandans and 3 Ethiopians are also in the fray in the four-day championship.
Rwandan Aloys Nsabimana who finished fourth last year was looking forward to an improved outing including winning it for the first time. "I'm here to do better and my strategy will be to stay on the fairway," Nsabimana said.
Another Rwandan Ronald Nkurunziza is wary of the back nine where holes 12, 15 and 16 proved troublesome while debuntant Emilie Nshimyumuremyi who returned 77 in the practice round was also looking for an improved performance.
Ethiopia's Biniyam Gebreselassie, Haile Aklilu and Tilaye Getanh who are playing in Kampala for the first time were impressed by the lay-out of the course and were also looking to a good outing over the four rounds.
Apart from Edwin Mudanyi who practiced in the morning, the rest of the Kenyan team were held up by the afternoon rain and only made it after.
Last year, Otile ousted his closest challenger Adolf Muhumuza by five strokes, to become the ninth golfer to win back to back open titles since the prestigious event started in 1932. And he is the only player he is wary of 'because of his consistence with his game'.
The main event will be contested for by golfers of handicap 0-7 while those of handicap 8-18 will compete in the subsidiary event.
Tusker Malt Lager has committed over sh500m into this year's tournament as assurance to show its support for the development of the sport in Uganda.
"I want to say that UBL and Tusker are members of the Uganda Golf Club. It gives us great pleasure and pride to be sponsoring an event where 120 ladies have participated in one of the historic events at this club," Mark Ongom the UBL Managing Director stated after the ladies open that ended on Saturday.