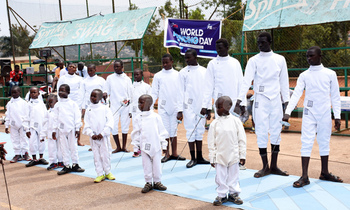 Participants line up at the World Fencing Day at Kampala International University. Photos by Johnson Were
A year after launching the sport in Uganda, Fencing is growing at a stable speed and has managed to acquire partners that will help in the development of the sport.

Fencing is a sport in which two competitors fight using 'rapier-style' swords. The winning points are made through the contact with an opponent.

This was demonstrated during celebrations for World Fencing Day at Kampala International University on Saturday.

During the celebration a team of youth and young children exhibited skills in fencing a thing that gives hope for medals in future.


Gayaza High School, Tororo Girls School, Gems International School and Christ School Bundibugyo are the schools that have so far started participating in the sport.

"We started up the sport and a number of the students have joined us and I think in future we shall be a powerhouse with a number of players on the national team," Florence Amutosi the games teacher of Christ School stated.