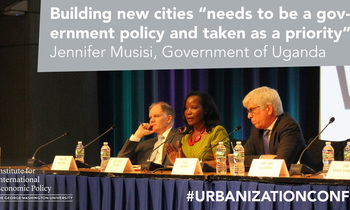 KCCA executive director Jennifer Musisi at the conference.

The Kampala Capital City Authority (KCCA), executive director, Jennifer Musisi, has called for the need to invest in research in a bid to plan better cities.
Musisi said research has helped KCCA improve on its service delivery, adding that involving public-private partners is the only way cities can succeed.
She, however, called for more involvement of public-private involvement in research in various areas such as public health, education and other social services.
Musisi was one of the participants in a discussion on urban governance at the fourth World Bank/George Washington University/IGC-cities conference on urbanisation and poverty reduction research held in Washington, US recently.
She was joined on the panel by Paul Romer, the chief economist and vice-president of the World Bank and Edward Glaeser, a professor of economics at Harvard University and member of IGC Council.
The panelists agreed on the need for research into the various aspects of urbanisation and eradication of poverty in cities.
The conference attracted a large number of development economists, urban planners, city managers and academics.