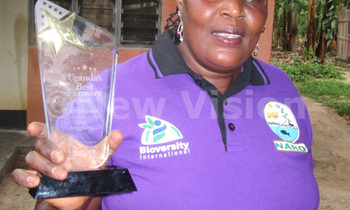 Mugisha showing the award she won from National Agriculture Research Organisation. Photos by Christopher Ahimbisibwe
"You are welcome to my farm," Joy Mugisha says with a beaming smile. We are in Ngoma-Nungi, Kiziba ward, Kagango division in the new municipality of Sheema in Sheema district.
Mugisha's house is sorrounded by over 100 acres of well utilised land that contains 20 acres of banana plantation, five acres of coffee trees (both robusta and clonal); 25 acres of a cattle farm, 10-acre garden of beans and 10 acres of eucalyptus trees.
The 54-year-old Mugisha, an agro-ecologist, who only holds a certificate in agriculture (pest and disease), has made her home an island of conservation and productivity in the middle of the degraded hills of Kagango.
"I use my little knowledge of conservation and environment protection for improved productivity and sustainability".
She says that she started farming in 1986 and currently practises mixed farming.
High productivity and sustainability
Because of her research and best practices, she has seen her banana plantation improve in productivity
"When I planted my banana plantation 20 years ago, I used to harvest bunches of bananas weighing four kilogrammes, the yield improved to 10 and now I harvest bunches weighing between 35 to 40 kilogrammes" she says.
She plants over seven varieties of bananas including improved varieties and other local ones.
"I like local varieties because they are easy to manage. That is why I have more of them than improved varieties'.
"I plant trees because I know they are important in the rainfall cycle. I also get poles from the forest to support my climbing beans and also for fencing my farm. I remove all polythene bags in my farms to allow easy movement of water in the soil. These are some of the reasons why I won an award with the National Agriculture Research Organisation for best local practices'.
She says she practices super stem cutting, chopping banana suckers and mulching the plantation to get good and improved yields on her farm.
"In order to have high yields, I rear animals so that they can supply me with cheap and sustainable organic manure for use in my banana plantation and all other crops," she says, adding that most farmers struggle buying manure and using synthetic manure, which degrades the soil.
Seed conservation
Probably what has made Mugisha stand out is her seed conservation efforts. She has managed to conserve over 30 varieties of beans on her farm.
"I love to look at the varieties. They are beautiful, nutritious and a rare combination of qualities. I want to preserve them for posterity," she says.
She has some of the most sought after local bean varieties, which are resistant to climatic conditions such as kasiriira, kanyarwanda, mahega, gantagasize, kishoga, kanyamunyu, kanyobwa, kiribwa ogwejegiire and kankurye-mbarukye.
Farmer-to-farmer networks
Mugisha has become a centre of attraction for both local and national farmers who come to her farm to learn how she has managed to maintain high productivity, stability and sustainability. She has also formed a women's association group called Kiziba Women's Group who have constructed a seed bank for their produce.
Risk management
While soil erosion and sedimentation are wreaking havoc to agricultural yields in Uganda, Mugisha says that she has surrounded her farmland with trees which help against soil erosion and also act as wind-breakers.
She says that the greatest risks on her banana plantation and her coffee plantation is the banana wilt bacteria that affects her bananas. As a researcher she has tried to control such risks by cutting the affected plantations and also using acalacides that can kill the virus and also control the spread.
She says farmers need to know the seasons so that they can reduce on the banana leaves. "The more leaves on a banana tree the more heavy it becomes and the more easy it is to be felled by the wind and the reason for putting plant support on each tree," she says.
Post-harvest handling
For sustainability purposes, Mugisha says that she has been able to use local technology such as a crushing machine, moisture meter to measure the amount of water in the harvested crops and use of a weighing scale to measure the weight of the banana bunches.
After harvesting, she sorts the seeds for easy marketing and conservation.
In the garden, every plant is marked according to the botanical name and class. This has helped her to know the different bean varieties.
Plans
Mugisha says that she wants to start a demonstration farm for farmers to teach people how to practise modern farming.
She wants to install an irrigation system which will help her during the dry season. With an irrigation system, I will be able to have continuous seasons throughout the year.
Invest in agriculture
Mugisha says she earns over sh4m monthly from her. "People should invest in agriculture and food production because it pays well," she says.