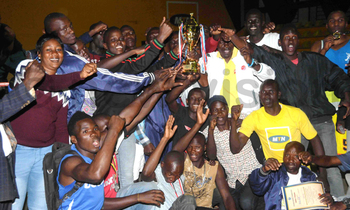 The Cadets Boxing Championships saw Police dethrone Lukanga in the elite category of the eight day event that concluded on Monday at Lugogo Indoor Arena.
Police also finished third in the youth category where coach Denis Kasole attributed the win to the improved condition of sports in Police.
"We have leaders who are for sports and we will do better because even last year we won in the intermediate championships," Kasole said.
Lukanga won the event in the youth and elite categories last year. This year, they finished second in both the junior and youth categories.
Lukanga coach Zebra Senyange claimed there was malice from the judges and said Uganda should circumvent AIBA rules and review fights so as to change verdicts.
Uganda Boxing Federation organizing secretary, Fred Kavuma, told clubs to start preparing boxers for the national league scheduled to kick off in two weeks.
Elites
Police 25 Pts
COBAP 21
UPDF 17
Lukanga 11
BBC 11
Youth
Kampala High 22 Pts
Lukanga 12
Police 11
Juniors
COBAP 35 Pts
Lukanga 26
Sparks 11
Special Contests Women: Namirembe Club won.
Best Boxer Juniors: Bob Turyatemba
Best Boxer Elite: Sande Wataka