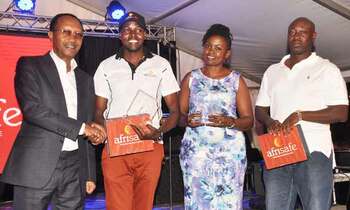 PIC: Amos Nzeyi (left) and Afrisafe chairman Kwame Ejalu (right) present prizes to Kemisi Lutajani and Wendy Angudeyo (2nd right) after the Chairman's Cup tournament at Entebbe Club, September 2 2017. (Photo by Michael Nsubuga)
The Jeep Cherokee that was up for grabs for a hole-in-one offered the motivation to play for most, but none could sink that elusive shot to drive it away, as the Afrisafe Entebbe chairman's cup ended at Entebbe Club on Saturday.
A record 216 golfers participated in the 9th edition, one-day four-club tournament; most in pursuit of that single shot on hole-No.12 that would win them the $88,000 (sh316m) car.
But none could, including the 28 professionals who instead shared sh10m prize money among the top ten players in their ranks.
Peace Kabasweka (left) receives the ladies Group A winners prize from Entebbe Club vice-president Oscar Semawere. (Photo by Michael Nsubuga)
Phillip Kasozi pocketed the biggest share of the cash after returning 148 gross over 36 holes with Vincent Baymukama and Ronnie Bukenya sharing joint second place.
Fred Wanzala and Saidi Mawa finished third and fourth respectively, with Henry Lujja finishing fifth.
In the amateur category competition Kemisi Lutajani and Wendy Angudeyo playing off handicap 22 and 36 respectively received the biggest accolades of the day from chief guest Amos Nzeyi and Afrisafe chairman Kwame Ejalu after returning 40 and 47 stable ford points respectively.
Managing director Partha Sarathi Veldurfhi was also present and witnessed the usual lively 19th - hole experience at Entebbe club.
Shou-Ta-Huang was the lucky winner of a sh500m personal accident insurance policy from the sponsors after being picked from a draw held at the prize ceremony.