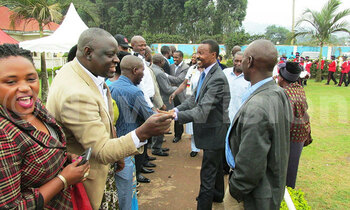 The Forum for Democratic Change (FDC) party President, Gen. Mugisha Muntu has asked party members in Kigezi region to focus on promoting democracy in their party.

Muntu is seeking a second and final four year term at the helm of Uganda's biggest opposition party.
He told delegates during his campaign for Kigezi region at Kirigime Guest House on Monday that FDC can be more influential in national politics if members embrace the democratic path.

Mugisha Muntu said the country's biggest problem has been the poor mentality among some politicians who feel that they are the best for the country and cannot be replaced.

"The biggest problem we should solve for this country to develop is the continued individualism where politicians tend to plant into the electorate a feeling that they are the best in whatever they are doing. As FDC we should embrace the ongoing party democracy by not looking at individuals vying for these seats, but the process that ensures free competition among the members," said Muntu.

Muntu explained that even if Ugandans got rid of Museveni without a clear democratic strategy, they will still face the same leadership challenges they have faced over the years.

"We need to understand how systems are constructed and certain cultures are changed. Uganda has had a lot of bad leaders who keep deceiving our people that they can deliver but when they get into offices, they consider their own interests," said Muntu.

He promised to continue with the strategy of establishing and sustaining strong party structures starting from the grassroots so as to make FDC a bigger and better political party.

Speaking at the same platform, Gerald Karuhanga, the Ntungamo municipality legislator hailed Mugisha Muntu for being a consistent leader who has stood for the development of FDC against hard circumstances.

Angelina Osege, the Parliamentary Accounts Committee chairperson and also the team leader for Mugisha Muntu's campaign asked delegates to vote for Muntu due to his indiscriminative character that has seen him embrace all party members alike.

"Politics is all about numbers and Gen. Muntu is the real leader who has proved to us that all FDC members are equal. Pay a deaf ear to any rumour that is not helping our party and support the true leader," said Osege.

The Kabale Municipality mayor and former party Secretary General for Kabale district, Ssentaro Byamugisha asked the party members to stand for its principles as they choose the next leadership.

"Whichever leader you elect make sure he stands for party principles. Those whose campaigns are against the interests of FDC and are divisive should not be given a chance to take lead in the actions of this party," said Byamugisha.

Gen. Muntu is in the race for presidency against Mubarak Munyagwa-Kawembe South MP, Patrick Amuriat, Dan Matsiko, and Moses Byamugisha.