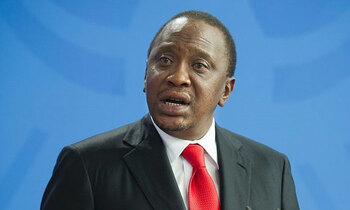 Kenya's President Uhuru Kenyatta. The embattled leader has an election rerun and a tragic school fire to contend with
A weekend fire at a Kenyan high school dormitory that killed nine teenage girls was started deliberately, Kenya's education minister has said.
Fred Matiangi said arson was to blame while announcing the death toll had risen to nine.
"Most of the investigations are done and I can tell you unequivocally after being briefed by the police that it was not an accident," Matiangi told a press conference in Nairobi today morning.
"Police have assured us that there are useful leads in the direction of specific suspects and we will know in due course who these suspects are," said Matiangi, who is also acting interior minister.
Initial reports on Saturday, after the fire broke out at a dormitory in Nairobi's government-run Moi Girls High School at around 2:00am, said that seven female students had been killed and 10 more injured in the blaze.
But Matiangi said the toll had risen to nine after two more students had succumbed to their injuries.
"We feel saddened that we have lost our children," Matiangi said.
The school, which has more than 1,000 students, has been shut for the next two weeks and distraught pupils have been sent home to their families.
Last year over 100 schools countrywide were set alight by arsonists in three months.
Then, around 150 students and 10 teachers were charged over the fires, with a variety of motives named, including revenge from a "cartel" linked to the country's former exam-setting body, which used to profit handsomely from selling papers and answers before being dismantled.
Other alleged motives were student anger over changes to the school calendar as well as Matiangi's tough education reform agenda.
However, the minister cast suspicion on local quarrels and tribal rivalries.
"We have a school environment where there are arguments about local communities and the head teachers and they foolishly take it on to the point of destroying school property and getting into criminal activities to make a point," Matiangi said.
He added that some parents are angered that the top job of headteacher goes to those who "do not come from the area or from the same clan".

"We cannot resolve a conflict in a school, or a conflict on the headship of a school, by burning the school," he said.