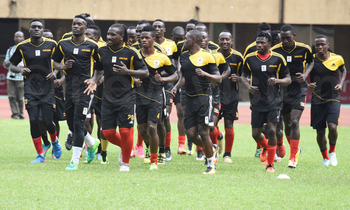 Uganda Cranes interim coach Moses Basena has maintained that the Egypt will not intimidate his charges despite them being ranked higher than his team.
In a pre-match press conference at Namboole, Basena and third choice goalkeeper Benjamin Ochan said that the team was prepared to pick a result against the Egyptians at Namboole Stadium on Thursday ahead of the return leg in Alexandria next week.
"We are not moved by their name. Yes, Egypt sounds bigger than us but the 90 minutes will determine results. We are prepared and not intimidated," Basena said.
Meanwhile security agencies have taken over the security of the Egyptians and their fans.
The team that arrived in the country on Tuesday night is expected to jet out immediately after the match.
According to FUFA's international match organizing chairman, Isa Magoola, security around the Pharaohs was beefed when they landed at Entebbe International Airport.
"Its true security agencies have taken over wellbeing of the Egyptian team. We cannot take chances especially when there are terror threats around us" Magoola explained.
Assistant Inspector General of Police (AIGP) Andrew Sorowen who has taken over coordination of all international sports events confirmed that the force and other security agencies deployed at Sheraton Hotel where the team is booked.
"We took over security just to ensure safety of the visiting team. Security will pick them at the airport and watch their safety throughout at the hotel and at Namboole. I can't give more details but know security has serious interest in this game," Sorowen said.
Sorowen urged the public to continue providing security agencies with information on any suspicious individuals at the game.