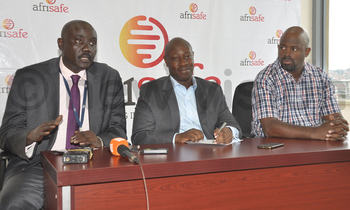 Skill and luck will be come into play as over 200 golfers descend to the Entebbe course on Saturday for the 9th edition of the Entebbe Chairman's Cup golf tournament.
One lucky player stands a chance of driving away in a brand new $88,000 (sh316m) Jeep Cherokee if they can hit a hole-in-one. The car is among the day's prizes provided by this year's sponsors Afrisafe Risk Consultants.
Uganda professional golfers also get a chance to cash in on the event too, in a sh10m competition that will be held before the main event on Saturday.
Afrisafe chairman Kwame Ejalu unveiled a sh80m sponsorship during a press conference at the company's offices in Bugolobi on Wednesday. He said it was due to his past involvement with Entebbe Club that they had come on board to sponsor the event.
"We are in the beginning of a launch campaign which will start with this golf tournament and spread on. We have decided to give a special challenge to the golfers by offering a car to make the tournament a little special," Ejalu said
"I'm particularly happy to be associated with Entebbe Club because they are the oldest club in the country and its management and membership is full of enthusiasm and they have given us an opportunity to interface with golfers," he stated.
Entebbe Club chairman Tumubweinee Twinemanzi in company of executive member Marvin Kagoro said they were expecting a field of about 200 players and that the one day tournament was unique because each player picks their best four clubs which they use throughout the 18-hole round.
"It is a test of skill and ability and the format provides very good fun. We shall unveil the hole on which they win the car on Saturday. It is a chance for golfers to network and have fun," Tumubwinee stated before promising a unique 19th-hole experience with a lot of entertainment.