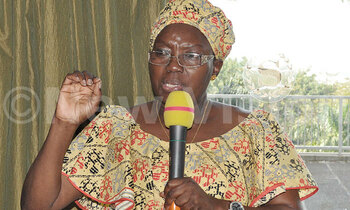 PIC: Parliament speaker Rebecca Kadaga addresses a breakfast meeting on contraception for adolescents in Kampala on Tuesday. (Credit: Shamim Saad)

TEENAGE PREGNACY

KAMPALA - The Speaker of Parliament Rebecca Kadaga has urged religious leaders, cultural leaders and mothers' unions to help in fighting the high rate of teenage pregnancies in the country.

Kadaga made the remarks Tuesday while officiating at the function of unveiling a policy guideline on sexual and reproductive health by the ministry of health.

Kadaga gave an account of early this year when a priest at All Saints Church, where she usually goes for prayers, blasted her saying, "You people are giving contraceptives to young children."

The Speaker said the attack from the priest perturbed her because she was unaware of it and that is why she had to bring it to the attention of parliament.

She reported further that she had also received a delegation of parents and children urging her to stop the distribution of contraceptives.

"It is a reality that children as old as 10 years engage in sex. We need to get out of our comfort zones and speak about it. I think we have to get a way of addressing this issue."
From left, minister of state for primary healthcare Joyce Moriku, Kadaga, UNFPA deputy country representative Miranda Tabifor and parliamentary health committee chairperson Dr Michael Bukenya sharing a light moment at the Tuesday meeting. (Credit: Shamim Saad)

The document the ministry unveiled promotes use of family planning and contraceptives among all sexually active women, including teenagers.

The state minister for primary healthcare Joyce Moriku told the gathering that her ministry is concerned about the problem of high rate of teenage pregnancy.

"As Africans with our cultural background, when we talk of contraceptives for adolescents, the minds quickly run to what to do to avoid pregnancy," she said.

"Let us separate policy from information we have to give to the adolescents."

Moriku said teenage pregnancy in the country stands at 24% although in some parts of the country, it goes as high as between 60% and 70%.