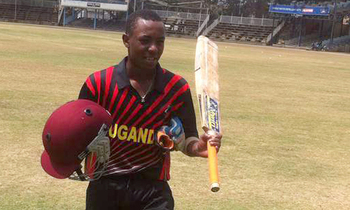 UCA Boys Schools Cricket Week

Selected results

Mukono Parents 226/3 Rwanda Select XI 35/10

(Mukono Parents win by 130 runs D-L method)

Nyakasura School 89/3 St James SS 92/4

(Nyakasura win by 21 runs D-L Method )

Kilembe SS 39/10 Ndejje SS 40/5

(Ndejje win by 5 wickets)

Kyambogo College 43/9 BC Mwiri 33/1

(BC Mwiri win by 9 wickets DL method)

Rwanda 90/7 Nyakasura School 91/5

(Nyakasura win by 5 wickets)

Mukono Parents 193/5 St James SS 42/10

(Mukono Parents win by 151 runs)

Jinja SS 195/5 Kyambogo College 106/9

(Jinja SS win by 89 runs)

Aga Khan 79/10 BC Mwiri 81/0

(Mwiri win by 10 wickets)

Kololo SS 156/6 Ndejje SS 51/10

(Kololo SS win by 105 runs)

There is no doubt Zephania Arinaitwe makes a huge difference on a rather resilient Mukono Parents side as the UCA Boys Schools Cricket Week continues.

The sallying batsman who was man of series last year was yet again every inch the focal point as the defending champions recovered from an opening shocking defeat to Nyakasura School on Sunday.

Arinaitwe applied himself extremely well with the bat brutally striking a century of 170 from 51 balls in the 130 runs win against Rwanda Select on Monday at Lugogo Oval in group B action and definitely he is no stranger in this club of centuries having scored a century in the initial stages of the Boys' showpiece last season.

Arinaitwe's stifling performance guided Mukono Parents to 226 in 14.3 overs, setting a daunting target for Rwanda select but still then Juma Miyaji's 3 wicket haul ensured Rwanda were all out for 35 in such a poor innings despite Orchide Tuyisange's 12 from 5 balls.

Meanwhile, Gabriel Kizza's half ton of 55 from 32 balls fueled Mukono Parents second win against St James SS at Kyambogo. They won by 89 runs.

At Gayaza, strong contenders Kololo SS defeated Ndejje SS handily by 105 runs courtesy of Frank Akankwasa's near century of 97 from 40 balls.

Marvin Kitamirike picked a crucial 3 wickets as six time record holders Busoga College Mwiri beat a jaded Kyambogo College by 9 wickets. Action continues today with Jinja SS facing Aga Khan at Lugogo,BC Mwiri date Masaka SS at Kyambogo,Mukono Parents battle Kilembe SS at Budo Astra, Nyakasura School face Ndejje at Budo Grass as Kololo entertain Rwanda Select at Gayaza in some of the many fixtures on the cards.