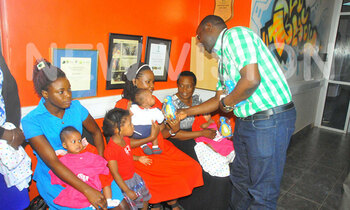 Vision Group has offered a shopping voucher to the youngest triplets at the Kampla twins festival that took place last weekend.

The triplets include Samuel Katwebaze, Stephaney Kwanzi and Samantha Kilirunga.

The voucher was handed over by Bukedde paper's editor, Geoffrey Kulubya on behalf of Vision Group to Dr.Suzan Mwesigye, the mother of the triplets at Vision Group headquarters in Kampala.

"We would like to thank you for coming with your children to participate at the twins' festival. It was a good gesture," said Kulubya.

The festival that took place at Kyadondo Rugby ground, Kampala brought together over 5000 people.

Kulubya noted that though Dr. Mwesigye had left the function before being recognized, the New Vision team traced and recognized her.

Dr. Mwesigye said that she has always wanted to attend the Kampala Twins festival way before she had triplets.