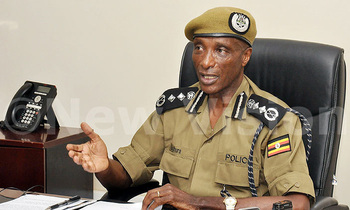 SECURITY

The traditional policing is not solving the root cause of crime in the country, top security officials from both the army and police have revealed.

The officials have linked the deteriorating insecurity and ruthless criminal activities to poverty.

Following a spate of gruesome criminal activities in the past two months in the suburbs of Wakiso district, 15 women have been confirmed raped and killed in similar fashion and circumstances.

In most cases, the partially clothed recovered bodies had been tied with ropes and bore scars of torture according to Police.

The Inspector General of Police (IGP), Gen. Kale Kayihura said some of the victims (women) were murdered by contract killers.

Kayihura has since linked the murders to a prominent trader (names withheld) and revealed that the prime suspects in the murders had been arrested and detained in Nalufenya, the Police investigation center known for holding high profile suspects, in Jinja district.

On Wednesday, in a Police led campaign, the UPDF's Operation Wealth Creation (OWC) team was dispatched to Nansana to preach economic growth to empower youth and desist from crime.

"There is poverty. We have a population which is not in gainful employment," the director operations Operation Wealth creation (OWC), Brig. Stephen Kashure added.

Kashure said that the Police chief (Kayihura) is linking security to economic development. "People with income will have no time to commit crime once empowered," said Kashure.

Some of the projects that government will empower the youth with include poultry, hair dressing, Piggery, metal works, catering services(which Kayihura pledged to support individually), mushroom growing, mechanics and artists.

Kashure said Nansana, Katabi and Kasokoso are the pilot areas before enrolling the campaign across the country, and they are (security) are targeting prostitutes, petty traders, boda boda riders, vulnerable girls/women, and criminal minded groups.

"There is need to rescue them. It is a kind of liberation," Kashure told New Vision on Wednesday while speaking on the sidelines, during the launch of the campaign at Royal Gardens, in Nansana on Wednesday.

Kashure said that several youth registered there groups basing on areas of specialty and they will be trained. By press time, the team was meeting youth in Katabi in Entebbe, Wakiso district.

Godfrey Sseguya alias Kayibanda a resident of Nansana, said high levels of poverty have led to the increased criminal activities in the area.

"The standard of living in the area (Nansana) is high, this prompts the youth to commit atrocious crimes. The move of linking security to economic development will neutralize the uncouth behavior," said Sseguya.

The event was also attended by a group of Chinese nationals who Kayihura introduced as investors who were to set up development projects in the area.
According to Kayihura, one of them was a motorcycle agent whom he said would provide employment to communities in the area.