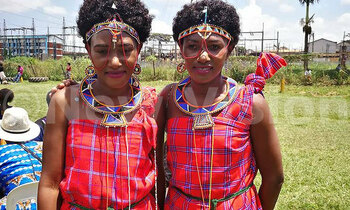 2017 KAMPALA TWINS FESTIVAL

KAMPALA - A warm Sunday saw hundreds of twins of all ages converge at Kyadondo Rugby Club, Lugogo for festivities marking the annual twins festival.

Identical and fraternal twins graced the event organized by Vision Group.

This year's edition, held under the tagline 'Double the fun', was attended by twins as old as 80 years and above.

One such pair was 86-year-old Emirina Babirye and Christine Nakato, one of Uganda's oldest twins.

Also in attendance were youthful twins, fathers and mothers of twins, locally given the name ssaloongo (men) and naloongo (women).

The event was officially opened by Emirina Babirye and Christine Nakato on a grand stage.

They were joined on stage by fellow twins 83-year-old Wasswa Bitaloo and Kato Bitaloo from Munyonyo and Busega respectively.

"I want to appeal to fellow parents not to spoil their twin children, by showing them alot of love, just like other children. Twins should be guided for proper upbringing," urged elderly twin Wasswa.

At the event, twins won gifts and money as a payback for attending this year's festival.

There was a kids play area, bouncing castle, face painting, candy machine, outdoor games, entertainment as well as a photo booth.
There were snakes of long lines at the Kyadondo Rugby Club gates.
It was busy times for the organizers as they had quite a huge number of people to handle.
Posta Uganda was one of the sponsors of the much-anticipated annual event. The other spoonsors were Movit, Parliament of Uganda and Uganda Tourism Board.
While one pair chose to go for the salute pose, the fraternal one opted for the freestyle mode.
A question that needs an honest answer: Would you be able to tell them apart if you met them along the street?

If your honest answer is yes, then you must have done plenty of the "Spot the Difference" tasks in newspapers and magazines :)
The colour picker was in full activate mode. There was a whole range of outfit colours going on at Kyadondo.
Bonded by DNA, bonded forever!
The poses took a creative path. Nice try.
"Yo, now that's watsup!" Some swaggarific attitude, boy!
She looks the shy one, he, on the other hand, seems more adventurous.

But then, looks can be deceptive. It could be the other way round in reality. Just saying!
Thank God you carried bags of a different design, otherwise it would be some bit of work telling you apart!
Same outfits, same shoes, same hairstyle, and the photographer was right in time to freeze you at almost the same pose. Oh my, super identical!
Thanks papa and mama for bringing them out for the outing. The toddler on the right however looks a little frightened by er, the photographer? Or, is it?
Trust Ugandans on this one. As usual such events present an opportunity for making some quick shillings (or 'bucks', if you like).
Rolex. Anyone?

Sizzling hot off the skillet!
There was plenty of fun stuff to keep your child busy and entertained.

How good were you at colouring back in school?

Personally, I wasn't the tidiest of artists, but I got along just fine. An average 40% in art class wasn't that bad, right?
Well, uhm . . .

They soaked in the fun in their own way, as well as the early afternoon kasana (sunshine).
I wasn't that good at art, as mentioned earlier, but this guy doing the face painting at Kyadondo certainly is!
Toto Magazines were there too.
It's good to see that daddy took time off what should likely have been his resting day to accompany the kids to Kyadondo.

Good parenting? Tick!
No, you don't have to first take a trip to the vast sand dunes of the Sahara or the Middle East in order to enjoy a camel ride. The Twins Festival had you covered.
And from the 'dizzying' heights atop the tower that is a camel, they felt they were on top of the world.

Well, until they had to get back down . . .
The event was not short of unique poses.

Birds of the same feather, think alike. Nice creativity people!
If you were to enter the mind of the baby in the middle, what do you thinking he is saying in there. Quite frankly, it's a confusing expression. I can't really tell. Hmm.
Oh yes, double happiness it is. Double delight!
They came, they saw and they conquered the poses. Well, in a rather humble way.
The two little ones could make promising ballerinas. The craft is there.
Yes, you can also swap the colours. Makes it easier to split you two.
Wondering what (or who) he is eyeing. Hmm.

Camera guy, please pan and we see. Oops, it's a still image format, not video!
Such likeness!
The festival is a time to bond the old and the young.
Clearly made from the same cloth (don't read that literally by the way).
Is that a grin of satisfaction on the camel's face? He or she looks quite comfortable even with some human 'luggage' on his hump!
Wondering what next? Ponderous. Pensive. Pinpoint focus.
While some enjoyed the thrill of the camel ride, others developed some cold feet . . . and one in particular wanted out of the idea!

OK enjoy the rest of the pictures down . . .
ALSO RELATED TO THIS

Huge turnout at Kampala Twins Festival

Kampala Twins Festival: The day is here!