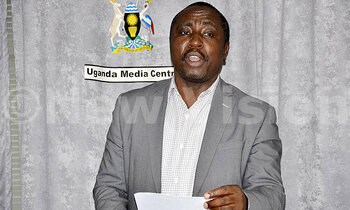 PIC: Agriculture state minister Christopher Kibazanga addressed a press conference in Kampala on Saturday. (Credit: Ronnie Kijjambu)

HEALTH & ENVIRONMENT

KAMPALA - Uganda has been declared free of bird flu after tests of samples from poultry and wild birds proved negative, according to Christopher Kibazanga, the minister of state for agriculture.

The minister, who was accompanied by Dr. Noeline Nantima, assistant commissioner in charge of animal disease control, made the declaration at the Media Center in Kampala.

"Uganda is free from the highly pathogenic bird flu," said Kibazanga in a brief address.

In January, Kibazanga led a team that announced the outbreak of bird flu and this was followed by a total ban on importation of products from Uganda by neighbouring Kenya, Rwanda, Tanzania and DR Congo. South Sudan did not put a ban.

The minister said they have been undertaking surveillance with their Kenyan counterparts and that Kenya has relaxed the total ban to a partial ban.

He said they had cleared a number of firms exporting poultry to Kenya and that they were going to create awareness about the standards in order to export to Kenya.

He said the country has not detected any strains of bird flu since May this year and that World Organisation for Animal Health which is hosted in France had declared Uganda free of the disease in May.

The wild birds that escape the chilly winter in Europe migrate in August to warmer countries like Uganda and return to Europe in March.

The strain of Avian Influenza that was behind the massive death of wild migratory birds along the shores of Lake Victoria was not as lethal as thought. The strain of Avian Influenza also known as bird flu that hit wild birds and poultry was H5N8 and not H5N1.

The H5N8 is a sub-type of Influenza A (called bird flu virus). H5N8 is considered as less pathogenic sub types for humans and no human cases were confirmed.

The Government also said they will continue with their routine surveillance at Lutembe in Wakiso, Bukakata in Masaka and Kalangala. There is also a contingence plan to deal with outbreaks in the future, Nantima.