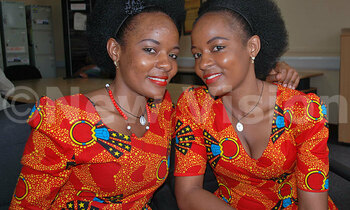 PIC: Twin sisters Sylvia Babirye (left) and Scovia Nakato. (Credit: Agnes Kyotalengerire)

KAMPALA TWINS FESTIVAL

On August 20, Sunday Vision will hold a festival for twins dubbed Kampala Twins Festival at Kyadondo Rugby in Kampala. Ahead of that much anticipated day, we are publishing stories on twins.

Today, we present to you identical twins Sylvia Babirye and Scovia Nakato who run a garments business together.

OK, to save your eyes from getting dazzled as you try to tell who is who, here is a simple guide: Babirye is the one wearing a red rosary. (And if you are the critical type, you will tell them apart by the different kitenge collars).

With that out of the way, let's get back to the story, shall we?

The twin sisters' business is at Mukwano Arcade in Kampala. As it often happens with identical twins, Babirye and Nakato, too, get their customers confused over who is who.

"On several occasions, customers have come briefing me about their previous purchases mistaking me for Nakato. But, I do not push them away. I patiently listen to them and later refer them to Nakato or when she is around, she quickly intercepts," says the soft-spoken Babirye.
In case there is confusion and a customer cannot identify who attended to them, we tell them to wait until we are both around. That way, it becomes easy for them to identify the person who attended to them.

That aside, the pair are happy to be born identical twins and so is their father, Saloongo Aaron Kavuma, who attests that the birth of twins showered the family with blessings.

"We have seen a change in our lives in the area of finance and jobs but it comes with extra care. For instance, not annoying the twins and treating them equally," he says.
The twins' father is quick to explain that they do not believe in traditional rituals surrounding twins. When the twins were born they took them to church at four months and baptized them.

Babirye and Nakato were born on 21 years ago on May 27 as the second-born out of seven children.
Kavuma says although the twins are identical, they have different personalities. He describes Nakato as rather talkative and active as opposed to Babirye.

For instance, in their childhood, Nakato mastered the art of wearing her sandals and shoes correctly, something Babirye would not do. She was also outgoing - a personality she has maintained to this day.

On her part, Nakato describes Babirye as kind and generous, always ready to give and share.


ALSO RELATED TO THIS STORY

What causes repeated twinning?

They have had two sets of twins

Kato and Wasswa plan to marry on same day