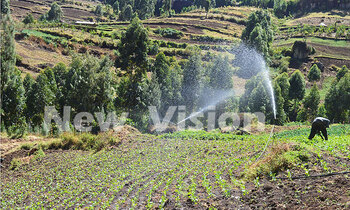 AGRICULTURE & IRRIGATION

When a thunderstorm hit Kagulumira in Kayunga district last year, it left a trail of havoc in its wake.

"I lost almost two acres of maize and beans," says Herbert Kalinda, a farmer. Consequently, he was forced to buy food from nearby markets.

"There was hardly any money. We had a poor harvest and sold virtually nothing."

But Lady Luck smiled upon Kalinda on the farm of a specialised training scheme conducted under the National Agriculture Advisory Services (NAADS).

He joined a grouped of seven farmers and they bought a simple irrigation pedal pump, which costs sh600,000 in the open market.

The members use the pump to irrigate their gardens on a rotational basis. Kalinda stores rain water in a 1,000-litre tank. When the water runs out, he draws more from a nearby swamp and fills the tank.

"I harvested over 1,000kg of upland rice last year," he says. "Now I can grow crops all year round. I have said goodbye to poverty.

Kalinda also managed to procure a plot of land, a cow and also take care of his family.
How the irrigation pedal pump works

The pedal irrigation pump is easy to use. All one has to do is ensure there is a nearby source of water and transmission pipes that connect to the shamba (garden) or farm.

Made with handles, a user climbs a top the pump and pedals it. By pedaling, pressure is applied through the pipe that draws water from a source.

The water gushes out through a spot.

Irrigation is effective with a minimum of two people. One pedals, while the other holds the pipe and sprays the crops.

This method also has another benefit. "By pedaling, I also work out," says Kalinda.

However, care must be taken when pedaling as a person could fall off and hurt him/herself.

Blessed with reliable rainfall and fertile soils, Prof. Peter Mubiru, a veterinary doctor in Wakiso, reckons there is no reason Uganda should suffer food insecurity and floods.

"I have been to countries with unreliable rainfall, but they still utilise it to irrigate crops. They also export produce," he says.

"We need to tap into rain water for both domestic use and irrigation. We can also harness water from our lakes and rivers."

In regions like eastern Uganda where floods are common, such rain water could be utilised for irrigation, as well as for domestic and industrial use if the government invested in water storage facilities at village, sub-county, district and national level.