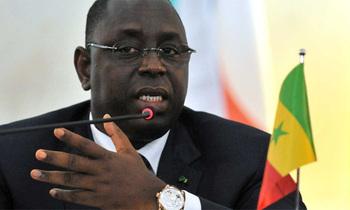 Senegal's constitutional council has confirmed a widely expected landslide for the coalition of President Macky Sall in legislative elections, bolstering his image ahead of a 2019 re-election bid.

The constitutional council confirmed that presidential coalition Benno Bokk Yaakaar (BBY) would take 125 of the Senegalese parliament's 165 seats, in results were published via the public APS news agency.

The coalitions of ex-president Abdoulaye Wade and Dakar Mayor Khalifa Sall took 19 and seven seats respectively.

The decision is the final approval required for the results of the July 30 vote to be definitive.

The election had a turnout of 53.66 percent among Senegal's 6.2 million registered voters, though many complained on the day of organisational problems.

Fourteen parties will be represented in the national parliament, where for the first time half a million Senegalese living abroad will be represented by 15 "diaspora" lawmakers.

There were a record 47 lists of candidates contesting the election, and clashes between supporters of President Sall, Wade and Mayor Sall led to several arrests during the campaign.

Wade has said his coalition will not participate in future elections organised by Sall's government, describing the July vote as a "masquerade", though he won a seat in the vote.

Mayor Sall is currently in jail awaiting trial for embezzling state funds -- charges his supporters say are politically motivated -- but also won a seat. It is not clear if he will be able to take it up.