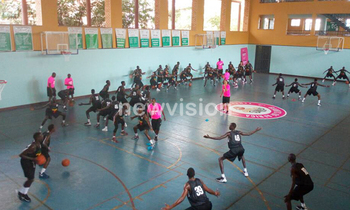 A part from conducting a juniors basketball camp at Kampala International School Uganda(KISU) in Bukoto, discipline, hard work, passion and team work were some of the values the Giants of Africa preached to some 50 ugandan players.

"Because life is more than just a basketball career on court. We as Giants of Africa are here to pass on more than just basketball skills to the youths," said the Raptors' assistant coach Patrick Mutombo at the just concluded three-day clinic.

"If one is to ever dream of making it to the NBA or Euro League, they should be ready to go through a well-choreographed plan that will help mold a young talent ready to face the challenges that come with playing at such a big level and this what we(Raptors) do," he added.

The Giants of Africa youth basketball clinic started Saturday with some of the world's best trainers taking the Ugandan youths through the basics of the sport.

The program that started in Rwanda, is expected to serve over six African countries including Kenya, Nigeria, Ivory Coast and Senegal.

Giants of Africa is a non-profit organization that was founded in 2003 by Toronto Raptors president, Masia Ujiri. It is tailored to develop aspiring basketball athletes both on and off the court.

​