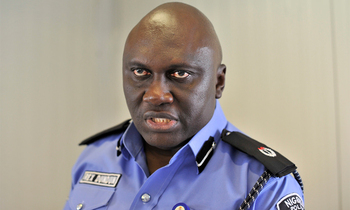 AMISOM Police chief of staff, Rex Dundun, has cautioned the Uganda Police contingent in Somalia not to taint their names in the course of their duty as peacekeepers but rather abide by the rules and regulations during their stay in the war-torn country.
Dundun, who was speaking at the end of an eight-day orientation workshop for the newly deployed Ugandan police peacekeepers, said the prime role of the new contingent is to assist Somali citizens and not to multiply their sticky crisis.
"Do not leave with a tainted and dented name. We are here to assist the Somalis not to contribute to their woes," he said.
"I want to emphasize that while we carry out these responsibilities, discipline should be our watch-word. Let us not forget self-discipline. Let us not forget the discipline that has been imbibed in us through various training programs right from home," he added, calling upon the over 100 Ugandan police peacekeepers, to strictly follow the AMISOM laws and regulations during their mission.
"We are trained to be law enforcement agents and we are trained to abide by rules and regulations. In AMISOM we have rules and regulations. Let us uphold the rules and regulations," he said.
Superintendent of Police, Denis Reuben Anywar, is the contingent Commander of the Uganda Formed Police Unit, which arrived in Somalia at the beginning of this month.
According to a statement issued by AMISOM, the key role of the contingent, during the peacekeeping mission, is to mentor and enhance skills of the Somali police officers. Community policing, counter terrorism operations and public order management are the other activities that the Ugandan officers will jointly execute with their Somali counterparts.
Dundun, AMISOM officials said, commended Uganda for having one of the best police training programs.
Commenting on the training capacity of Ugandan police officers, the AMISOM police operations coordinator, Daniel Ali Gwambal said: "They have taken what they have been taught here very seriously and I wish to remind them that as officers; and they have pledged their commitment and dedication for the attainment of the Mission's mandate."
Uganda, Nigeria, Kenya, Sierra Leone, Ghana and Zambia are the six police contributing countries to AMISOM.