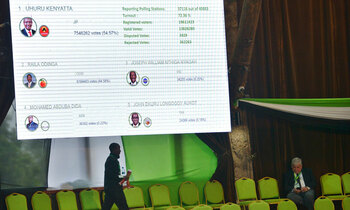 PIC: Running results for Kenya's presidential elections appear on a giant screen at the national tally centre, Bomas of Kenya, in Nairobi. (AFP)

KENYA GENERAL ELECTIONS

LATEST LEADING PRESIDENTIAL RESULTS

Kenyatta: 7,814, 045 (54.37%)

Odinga: 6,433,161 (44.76%)

NAIROBI - President Uhuru Kenyatta appeared headed for re-election Wednesday but his rival Raila Odinga claimed a massive hacking attack had manipulated results, ratcheting up tensions in east Africa's richest economy.

With ballots from 92 percent of polling stations counted, electoral commission (IEBC) results showed Kenyatta leading with 54.4 percent of the nearly 14 million ballots tallied against Odinga's 44.7 percent, a difference of 1.3 million votes.

"These results are fake, it is a sham. They cannot be credible," Odinga told a press conference in the early hours of the morning as partial results fell quickly via an electronic tallying system aimed at preventing fraud.

He later detailed accusations of a massive hacking attack on the electronic system, saying hackers had gained entry to the system using the identity of top IT official Chris Msando, who was found murdered and tortured late last month.

"This is an attack on our democracy. The 2017 general election was a fraud," said Odinga, claiming detailed evidence of the hacker's movements. He would not say how he got the information, as he wanted to "protect his source".
Odinga claimed the IEBC had not provided the scanned forms meant to accompany the results.

The 72-year-old, who is making his fourth bid for the presidency as the flagbearer for the National Super Alliance (NASA) coalition, accused his rivals of stealing victory from him through rigging in 2007 and in 2013.

"You can only cheat a people for so long," he said.

'I don't control the people'

In 2007, the disputed vote resulted in two months of ethnically driven political violence that killed 1,100 people and displaced 600,000, a major blow to a nation seen as a regional bastion of stability.

The contested election in 2013 was taken to the courts and ended largely peacefully, though Odinga lost.

Odinga urged his supporters to "remain calm as we look deep into this matter." But he added: "I don't control the people."

As his speech ended scores of supporters gathered at a roundabout in his western stronghold of Kisumu and began burning tyres. Riot police carrying shields, assault rifles and batons fired teargas and the crowd quickly dispersed, said an AFP reporter in Kisumu.
Local media urged the losers to peacefully accept the result and turn to the justice system with their grievances.

"The voters, too, must await the results while acknowledging that their favourite candidate can actually lose. It is a critical measure of democracy that there will be winners and losers," read an editorial in the Daily Nation newspaper.

The normally traffic-choked streets of Nairobi were largely deserted Wednesday, and some businesses remained closed as the country held its breath over the results.

Odinga had asked the IEBC to stop streaming results on its public website until the forms backing up the figures sent in from constituencies could be produced.

However IEBC commissioner Roslyn Akombe declined to do so.

"As a commission we decided that as part of the commitment we made to the voters and the Kenyan people, transparency and accountability are part of them."
'The will of the people'

The contest between Odinga and Kenyatta was seen by pollsters as too close to call ahead of the vote.

It is the second time the two men have faced off in a presidential election, a dynastic rivalry that has lasted more than half a century since their fathers Jomo Kenyatta and Jaramogi Odinga went from allies in the struggle for independence to bitter rivals.

The men belong to two of Kenya's main ethnic groups, Kenyatta from the Kikuyu, the largest, and Odinga from the Luo.

Both had secured formidable alliances with other influential communities in Kenya, where voting takes place largely along tribal lines.

In 2013 Kenyatta won by 800,000 votes.

Kenyatta, 55, is credited with overseeing steady economic growth of more than five percent, however food prices have soared under his watch and several major corruption scandals broke out in his first term.

Raphael Tuju, secretary-general of Kenyatta's Jubilee party, shrugged off Odinga's fraud charge.

"I don't expect anything else from NASA," he said.

On Tuesday, Kenyatta urged Odinga to accept the result should he lose.

"I also want to say that if I lose, I will accept the will of the people," Kenyatta said after voting.