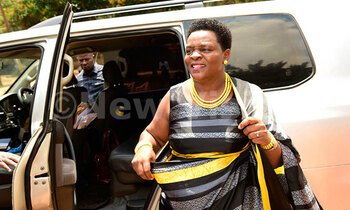 The state minister for Gender and Culture, Peace Mutuuzo has been nominated by the National Resistance Movement (NRM) to participate in the party primaries for Bunyangabu district woman MP.

Mutuuzo is among 20 others vying for both woman MP and LC5 chairperson party flag bearers in the new five districts.

These include, Rukiga curved from Kabale, Bunyangabu from Kabarole, Kyotera from Rakai, Pakwach and Namisindwa curved from Nebbi and Manafwa districts respectively.

Speaking to journalists Tuesday after her nomination at the party secretariat in Kampala, Mutuuzo said," I'm ready to represent my people in Bunyangabu, I have been nominated by the party to participate in the primaries."

However, Dr. Tanga Odoi the NRM party Electoral Commission Chairman, warned government officials including Mutuuzo against using government vehicles in campaigns, that they will be disqualified from the race.

Odoi backed Mutuuzo's nomination adding, "The minister holds a political position not as a public servants like doctors among others. And therefore she can't step aside for that matter, since she is not breaking any law."

The party primaries are slated to take place on August 15, 2017 according to the party EC chairman, and the party has recommended that nominees conduct joint campaigns.

Several NRM party nominated candidates including Racheal Nakitende who is vying for Kyotera woman MP, raised concern over inadequate time given to them for campaigns.