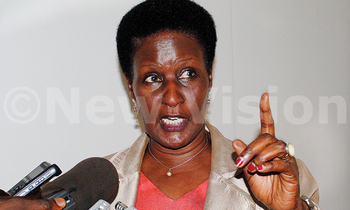 The Minister of Trade, Industry and Cooperatives Amelia Kyambadde has condemned the manner in which KCCA enforcement officers handle street vendors especially women, saying such excessive force is uncalled for.

This follows the death of a one Olivia Basemera last Friday August 5th as she tried to escape from KCCA enforcement officers. 38-year-old Basemera who was vending handkerchiefs reportedly jumped into the Nakivubo channel in a desperate attempt to escape and ended up losing her life.

In a statement released by Kyambadde on Monday 7th August 2017, she regretted the death of Basemera saying such mistreatment and brutal arrests of street vendors by KCCA enforcement officers should come to a stop.

"Though the street vendors operate illegally, as human beings and fellow Ugandans, they deserve fair treatment especially the women, majority of whom are single mothers fending for their children in this era of high unemployment in Uganda", Kyambadde exclaimed.

She says she was so saddened by Basemera's death because she is one of the female street vendors that accompanied her the day she swapped her job of a Minister and went on Kampala streets to vend mangoes, as part of the activities to celebrate International Mothers' Day in May this year.

In a bid to support female street vendors, the Ministry of Trade in partnership with Girls Forum International, a Non-Governmental Organisation that supports communities and professionals to foster stable relationships for happy and healthy families, is set to launch a program for skilling female street vendors in Kampala.

The female street vendors will be trained in three separate business/entrepreneurship skills including Hair dressing, bakery and confectionery and tailoring, and the training will be conducted at the Management, Training and Advisory Centre (MTAC) in Nakawa and it will be free of charge, starting this month. The launch of the training program will take place on Monday August 14, 2017 at MTAC.

After going through the experience of a female street vendor, Kyambadde promised to devise means of empowering female street vendors through capacity building so that they can get involved in decent, profitable and risky business activities than their current occupation.

"So far, I have secured admission for one of the female street vendors Barbara Kadondo, a senior six dropout for a certificate course in Entrepreneurship and Business Management and similar shorter courses for the other women, both at the Management, Training and Advisory Centre (MTAC) in Nakawa," explained Kyambadde.

She says her Ministry is working closely with KCCA and Civil Society organizations to ensure that they find alternative occupations for the female street vendors rather than risking their lives on the streets.

Easter Namboka, the coordinator Girls Forum International says they have mobilized over 250 female street vendors who are going to be trained in Hair dressing, bakery and confectionery and tailoring.

"The women will be grouped into various clusters of their respective choice and will be awarded certificates at the end of the training program" said Namboka.

Namboka adds that through such an initiative, street women vendors will be able to leave the streets and in the end, they will stop having run-ins with Kampala Capital City Authority (KCCA) officials.