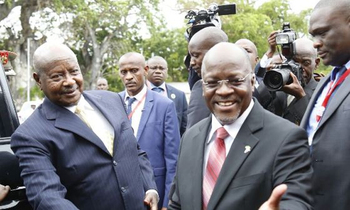 President Yoweri Museveni of Uganda and his counterpart, John Magufuli on Saturday laid the foundation stone for the construction of a crude oil pipeline from Hoima in Uganda to Tanzania's Indian Ocean seaport of Tanga.

The 1,445 kilometre East African Crude Oil Pipeline (EACOP) worth $3.55b will be able to transport 216,000 barrels of oil per day once the project starts its operation. It will be the world's longest electrically heated crude oil pipeline.

Authorities said construction of the EACOP is expected to commence early 2018, and is projected to take 36 months with the prospect of creating between 6,000 and 10,000 jobs.

Uganda's current oil reserves stand at 6.5 billion barrels with 1.7 billion recoverable from the ground.

The event was witnessed by high-ranking officials, ministers, senior government officials from different institutions which are involved in the project.

Speaking at the historical event, which brought on board thousands of people from the two east African nations, Magufuli described the project as a landmark for swift development of the two countries and east African region at large.

In Tanga region alone, Magufuli said that more than 45,000 youth will benefit directly and indirectly with the implementation of the giant project, which upon completion is to completely change the outlook of the northerly seaport city of Tanzania.

He, however, challenged Tanzanian youth to explore opportunities available in the project, which touches on almost every sector.

"It is high time Tanzanians chipped in and benefited from the regional project, which has countless benefits," he said.

Magufuli further lauded Uganda for choosing Tanga route for the crude oil pipeline, which will also be a source of revenue for the two east African nations.

Museveni described Tanga Port as key because of its geographical location and security.

He said the project will also make fuel cheaper hence foster aviation industry, whereby regional airlines will get cheaper jet fuel.

Museveni further stated that the pipeline shows the importance of integrated decision-making for the two states.

Medard Kalemani, Tanzania's Deputy Minister for Energy and Minerals, said the construction will be carried out by three firms, two from France and one from the United Kingdom.

According to Kalemani, on the Tanzanian side, the pipeline will pass into 8 regions namely Kagera, Geita Shinyanga, Tabora, Singida, Dodoma, Manyara and Tanga. It will also cover 24 districts and 184 villages.

Construction of the three-year project will commence early next year, the deputy minister said.

According to feasibility studies, the Tanga route was deemed the cheapest for Uganda to transport its oil from the production point in Hoima to the international market.

Tanga route has convenient flat terrain, not interrupted by other activities, has lowest environmental challenges, and provides the shortest schedule for Uganda to see the first oil exports around mid-2020.