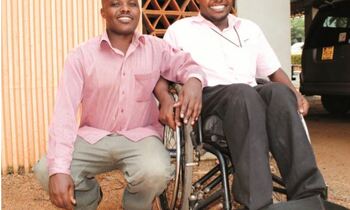 Mukhwana (in wheelchair) and Wamono during an interview at the Uganda Broadcasting Corporation headquarters in Kampala recently. Photo by Mary Kansiime
On 20th August, Sunday Vision will hold a twin's festival budded Kampala Twins Festival at Kyadondo Rugby in Kampala. As we prepare for the event, we bring you a story of how Wamono saved his twin brother from a fire
I am Noah Mukhwana. Mukhwana because I was the first to be born and my twin brother is Thomas Wamono. We were born on December 25, 1983. Our parents are Simon Peter Nabendeh Wamoto and Lorna Khwaka (RIP).
We agreed to deny our mother the delights of Christmas and forced her to deliver us on that day. We went to Bunakhayoti Primary School in Bududa district; O'level at Bukedi College, Kachonga in Butaleja district and A' level at Uphill College, Mbuya in Nakawa division.
The accident
After completing our Senior Six final examinations, I went to a roadside booth to call our father to pick us from school. However, before the call could go through, a speeding vehicle coming from Mbuya military barracks quarter guard rammed into me.
At Mulago Hospital
The accident left me with a broken spine and I was admitted to Mulago Hospital, where we spent close to six months. My brother was by my bedside for all those months. He put aside his personal demands and dedicated his time to care for me.
With spinal injuries, control of some bodily functions, such as passing urine, without a catheter or training to control urine, you are helpless. I could not care for myself. For instance, I had to be bathed. I felt ashamed and helpless.
I remember crying all day, for many months. Worst of all, my mother passed away while I was in hospital. This broke my will to live. I thank God for Wamono, because he endured it all. He would always tell me: "Do not worry, you will walk again".
Wamono rescues me from a fire
At one point, there was a short circuit in the ward and the room went ablaze. Somehow Wamono got the energy to whisk me out of the ward to safety. I got healed, but my legs could never carry me again. I, therefore, left the hospital without pain, but in a wheelchair.
School again
When the results were released, we had both passed. However, this was the only stage in our lives that we were going to be separated, by studying from different institutions.
We were both initially admitted to Makerere University for the same course (urban planning), but, since I was permanently on a wheelchair, I was transferred to Kyambogo University, which has facilities for people with disabilities. I changed my course to procurement and logistics management.
Different universities, same residence
At Kyambogo, I studied on government sponsorship, with free meals and accommodation.
I, therefore, asked Wamono to live with me in my room at Kyambogo. He would get his accommodation and meals at Kyambogo and go to Makerere for lectures, until we completed university.
We are still seeking employment, but at the moment, we help our father run a restaurant at the Uganda Broadcasting Corporation canteen.