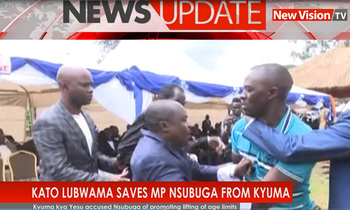 ASSAULT

William Ntege, who attacked and assaulted the Kassanda South Member of Parliament Simeo Nsubuga, was on Wednesday taken to court and charged with assault.

Ntege a.k.a Kyuma kya Yesu, was on Monday attending the Kabaka's anniversary celebrations at Kaweeri in Mubende town when he attacked Nsubuga.

The Buweekula county chief who was addressing the Kabaka had called the members of parliament attending the function to be introduced and prostrate before the Kabaka.

Ntege tried to block Nsubuga from going with other MPs to be introduced. He forcefully pushed him back until the security intervened and rescued the MP.

Police immediately arrested him and was held at Mubende police station from where he was produced in court.

The chief Magistrate Hellen Ajiro read a charge of common assault and remanded him to Kaweeeri prison until August 9.

Attending the court were politicians, mostly from political parties like Democratic Party(DP) and Forum for Democratic change (FDC). Among them was Haji Sinan Kaggwa, the chairman of FDC in Mubende district.