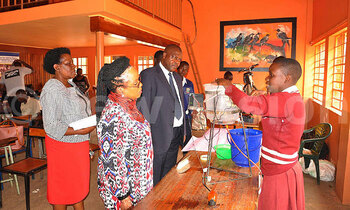 PIC: A student of Ikoba Girls Secondary School, Masindi explains how a simple water fuel oil gauge works. Listening on keenly are Sam Kuloba, education ministry commissioner and the executive director of FAWE Uganda, Christine Sempebwa. (Credit: Andrew Masinde)

INNOVATION | EDUCATION

Government is set to start a countrywide documentation of all innovations and research projects, with the aim of rendering support to the most productive ones.

The study will be done under the ministry of Science, Technology and Innovations.

The revelation was by Jennifer Muwuliza, who is the assistant commissioner at this ministry. This was during the national girl's secondary schools science, technology, engineering and mathematics (STEM) competition held at Kitante Hill School in Kampala.

The national science and innovation competitions are aimed at stimulating girls' interest in research.

FAWE Uganda executive director Christine Sempebwa said the competition is aimed at creating a platform where students can freely brainstorm and contribute ideas.

She said they expect to uncover the untapped talent of students in research and development.
A student of Iganga SS explains her nutrition project

On her part, Muwuliza said that there are many students and individuals who have come up with innovations but since they lack support, their innovations are lost along the way.

"This will stop if they get government support," she said.

"We are also in the process of building innovation hubs across the country, where individuals will showcase their innovations. This, she said, will increase opportunities of exposing students and individuals with great and unique innovations.

She called on teachers to always support students with innovative ideas and ensure that they don't just stop at practicals, but also get to implement them.

Muwuliza advised the ministry of education to ensure that they identify students who are innovative and apart from supporting them, alert the ministry on what they are doing.

"It hurts when a student comes up with an innovation but later remains jobless, hunting for jobs."
Students of Mount Of Olive College, Kakiri explain to the guests how the Mechano Sprayer works
Sam Kuloba, the commissioner in charge of secondary education at the education ministry was the chief guest at the event. He said the ministry is in the process of reviewing the lower secondary level curriculum, adding that sciences will not be skills-based.

This is aimed at grooming productive students for the nation.

Kuloba said that through this, the students will be oriented towards employment. "The world is developing so fast because of technological advancements. We should be part of this move."

About the competition, Kuloba advised the participants not to just compete, but also implement their innovations in their normal lives.

He said they should grow the concepts and seek support from Government and the private sector.