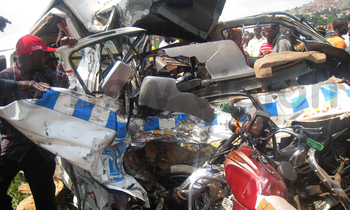 Seven people including two from the same family perished in an fatal accident at Maya swamp near London College School.
A taxi registration number UAF 233N which was coming from Mpigi heading to Kampala had a head-on collision with a lorry registration number UBA 299T that was heading to Masaka and rammed into a bodaboda motorcycle number UDY 191P which was also heading to Kampala carrying one passenger.

According to eyewitnesses, this accident occurred at around 1:15pm on Monday after a speeding lorry loaded with bags of cement heading to Masaka attempted to overtake another vehicle which was also heading to Masaka and collided with the taxi which was carrying 14 passengers.

Among the deceased included two relatives Muhamad Kajubi, the taxi driver and his conductor Abbas Kalanzi who was his young brother. Both are residents of Mpigi town council.

Details of other people who perished in the accident were still scanty by press time since they didn't have any identification documents on them.

According to Basti Chemutai the officer in charge of traffic at Nsangi Police Station, said many injured victims were rushed to Mulago Hospital for further management and treatment following serious injuries they obtained.

He however declined to disclose the number of the victims but said the number was big because almost all the passengers in the taxi and the lorry were either injured or died in the accident.
Bodies of the deceased were also taken to Mulago Hospital.

Traffic flow along Masaka-Kampala Road in areas between Nsangi and Kyengera was affected for almost three hours after the accident.