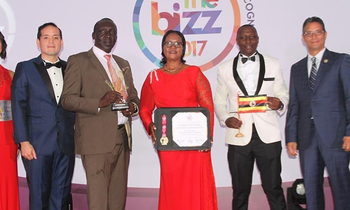 National Water and Sewerage Corporation (NWSC) has scooped a beyond success award from the World Confederation of Business over its distinguished performance in utility management and capacity building of other utilities in the world.
According to NWSC board chairman Eng. Christopher Ebal, the award showcases of the corporation's excellence in leadership as demonstrated by its outstanding initiatives, impact of work and inspiration to others.
WORLDCOB is a leading international organization that encourages worldwide business development.
Ebal also observed that their triumph is a result of their massive water extension rollout programme that has seen the corporation increases its service coverage from 23 towns in 2013 to 200 towns countrywide.
According to Ebal, NWSC's coverage is currently at about 80% and the corporation is committed to have 100% service coverage by 2020.
"We are undertaking practical service delivery programmes under our water for all programme like Infrastructure service delivery plans, water supply stabilization and others to deliver 100% access to safe and clean water in all NWSC service areas by 2020," he noted.
The award was handed to Ebal and the Corporation Secretary Edith Kateete who also doubles as the Deputy Managing Director Board affairs.
The event took place at St. Thomas in United States. John Fisher Ssekabira, the Senior Corporate Marketing Officer at NWSC also attended the colourful event.
Ebal attributed the success to the Corporation's commitment towards excellent service and Government support in extending safe water to Ugandans.
"The annual water mains network expansion coverage has grown from 80km in 2013 to now over 1000kms of water pipe network being laid per financial year and we deserved the award," Ebal said.
NWSC managing director Eng. Silver Mugisha said the expansion is in line with the corporations five year strategic direction launched in November 2013 with an objective of ensuring that NWSC meets the accelerating growth in demand for services.
Mugisha said increase in urban Centre's and growth within the existing towns has come along with challenges related to inadequacies in their service delivery but they are working tirelessly to have infrastructure service delivery programme (ISDP) and Water Supply Stabilisation programme(WSSP) in various towns to address the supply challenges .
"ISDP and WSSP have seen access to water growing leaps in and bounds with more people being served through increased access and supply reliability.
This is why now NWSC laying average of 1000kms of water mains per year which is a record breaking and transformational considering that before launch of ISDPs, the corporation used to extend between 80 to 100kms of water mains countrywide," Mugisha said.
He said that programme is funded by use of the corporation's resources which is a clear manifestation of its performance that has enabled it to plough back its surplus revenue into infrastructure expansion to serve more people.
Recently, NWSC's outstanding performance in services provision was nominated in the 2017 African utility of the year and it was recognised for its outstanding contribution in the water sector worldwide.
In May, also Dr Rose Kaggwa, the NWSC's Capacity Development training, Research, Development and External Services was also nominated as a recipient of the 2016 IWA Women in Water Award for her outstanding contributions.